Under the Microscope: Date.com

I received a request to put date.com under the microscope and since I hadn't done one of these in a while I figured I'd give it a go. According to their website, Date.com is "the premier free online dating service that helps single girls, and guys, men and women, meet other singles, who may be looking for friendships, love, romance and marriage." Obviously this site is in a very competitive market with the likes of eHarmony and Match.com (just the two that spring to mind).
Before we go too much further I should probably put in this disclaimer. I am incredibly happily married and therefore did not sign up to try out the service. I did however examine the site closely and think I have a few observations that are of value.
Ok, with that out of the way, when I pulled up date.com I was greeted with a fairly standard sign up form. Personally I would have liked to see a bit more information about what exactly I was signing up for but I guess if I were their target audience, I might not care. They do offer a Site Tour which naturally I took. The tour basically takes you through several pages of explaining how date.com can help you find that special someone that you're looking for. Each page has a picture of models, most of them coupled up and looking quite happy. Obviously they are using the imaging to convey the idea that if you sign up, this is the kind of good looking happiness that awaits you. Again, that's probably pretty standard for dating sites.
After the site tour I decided I'd check out the registration page to see how involved of a process it was. The home page asks you a few short questions but the next page asked quite a large number of questions about my personality etc. Again, this is an area that didn't really appeal to me. I'd much rather get signed up and answer all these questions in a profile page or something like that after the signup process is complete. In all honesty it probably wouldn't have taken all that long to go through but I certainly wasn't going to go answer all those questions just to get registered. I decided to go check out the rest of the site and clicked the back button to head back to the home page.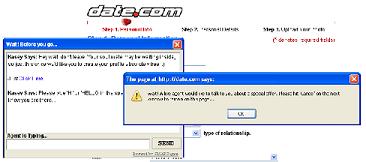 Much to my dismay this popped up two prompts. The first one implored me not to leave, and that a live representative wanted to chat with me about a "special offer." Needless to say this immediately became an adversarial relationship. I wanted control over my browser and they didn't want me to leave. The chat window appeared to show a representative named Kasey typing out several messages to me. She just wanted me to let her know I was there and all I had to do was type Hi or Hello to gain access to thousands of singles near me. Again I realize I'm not their target audience now that I'm married but I was at one time, and this kind of stuff would piss me off no matter how lonely or desperate I was.
Finally I got back to the home page, after ensuring the site several times that yes, I did indeed want to get the hell away from their live agent who was practically begging at this point. Obviously at this point my skepticism level was pretty high but the rest of the site didn't do anything to help bring it back down. The Success Stories and Date Info options both too me to pages on the Date.info domain. This absolutely floored me. If you had the good fortune to own date.com, a domain name which is likely worth a million dollars for the name alone, why in the world would you ever use the date.info domain? This might be my SEO experience or maybe it's my marketing side showing through but in my mind .info might as well say .spam. Seriously, when you see that domain extension aren't you immediately think that the site is spam or some sort of knock off?
As if that weren't enough, the last option on the main menu is to Download Toolbar. Just for a quick recap, this site has made use of a pop-up to try and keep me from exiting their signup page, they have a "live" representative trying to talk to me about a "special offer", half their site is on a .info domain, and now they expect me to install their toolbar on my machine? You've got to be kidding me!
Alright, if you're date.com, where do you go from here? First of all, recognize the value of your domain name. Put ALL of your content on the date.com domain. Keep the date.info registered so you don't have people trying to knock off your brand etc, but for heaven's sake, please don't use it yourself. Also, make the registration process much quicker and easier. Don't ask me all those questions until after you've created my account for me. Allow me to come back and answer the questions later if I'm busy or something comes up. And last but by no means least, get rid of the pop-up. If you'd like to drive people to chat with your agents, put a "Live Chat" or "Live Support" badge somewhere on your site. Don't try and force it down my throat. Just those quick and fairly easy changes would help your credibility and image immensely, at least in my eyes. I know I was a bit harsh on the site but I hope this helps.
---
Related Articles