Trim Theme by Elegant Themes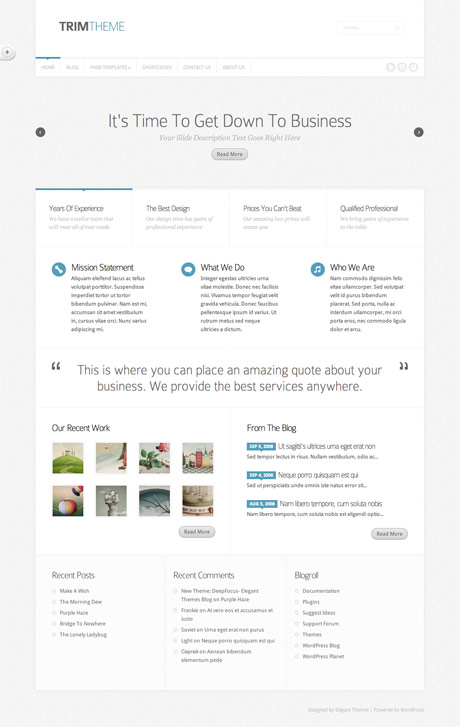 One of the things I appreciate the most about Elegant Themes is that they're not content to merely rest on their laurels. While it isn't the case with all businesses or individuals, it's easy for any of us to forget how we achieved the level of success we have today. As organizations grow, sometimes things are simpler when you move forward making decisions as you see fit. Fortunately for the subscribers of Elegant Themes, they'll never have to worry about partnering with a group that doesn't care to listen to its users' feedback. Trim premium WordPress theme was developed in response to many requests for a less stylistic, lightweight design, which coincidentally is exactly what they created.
Trim premium WordPress theme is simple, professional, and versatile, due in great part to the clean styling mentioned earlier. But don't let its simplicity in appearance fool you as Trim is a great option for anyone needing a fully-functional WordPress theme that won't limit what you're capable of accomplishing in the long-run as your business grows. One of the best things about Trim is that it is completely responsive, which means that all of your content is going to look great no matter what kind of device a visitor happens to be looking at your site on. It doesn't matter if you throw an iPhone, Android device, tablet, or desktop into the mix, Trim handles them all incredibly well and delivers a great user experience to all of your customers.
It can be tough when trying to make a decision on a theme club or particular theme. With Elegant Themes, you'll rest easy knowing that your subscription not only gives you access to the incredible collection of templates they currently have, but all future releases and updates to old themes as well. In fact, Elegant Themes is currently in the process of revamping a lot of their older themes to turn them into responsive layouts. Two of their most popular themes, DeepFocus and SimplePress have recently received this treatment and there are sure to be more to follow.
If you're curious about Elegant Themes and would like to know a little bit more about how the club works, make sure to click on the link at the end of this post after the list of features below. Once on the site, you can read all about what Elegant Themes has to offer and how they've helped thousands of individuals just like you implement professional websites for their businesses. Enjoy!
Trim Theme Features
WordPress 3.3 compatible
Fully responsive
Alternate slider layouts
Dozens of fonts
Opera compatible
Netscape compatible
Safari compatible
Unlimited Color Schemes
Gallery Section
Threaded Comments
Optional Blog-style Structure
Gravatar ready
Firefox compatible
IE8 + IE7 + IE6 compatible
Advertisement Ready
Widget ready sidebars
Theme Options Page
Custom thumbnail images
PSD files
Valid XHTML + CSS
Smooth table-less design
Trim Theme: $39 | Demo & Download
Note: Many of the articles on this site include affiliate links that may earn us a commission if you decide to buy the recommended product.
Related Articles