Top ThemeForest Authors (Making Major Bank)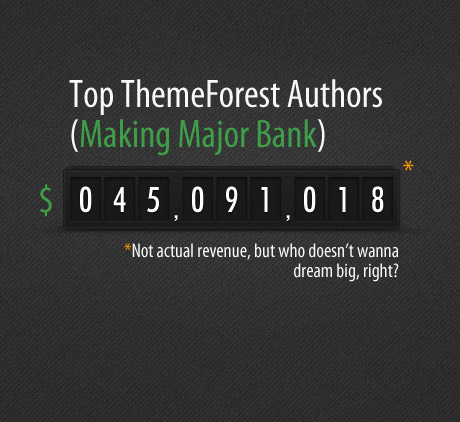 There was a time when having your own dot com or personal website was confined to the technically able. There was no way for ordinary folks to design, write code, setup, install, and publish a website with just a click of the mouse. You had to hire someone to do that. There was also a time when animated cartoon gifs, beveled text, unrealistic shadows on design elements, rainbow color schemes, blinking banners, funky fonts and Comic Sans (yes, Comic Sans) ruled. Thankfully, all that is now history.
Today, the Internet is no longer as mysterious as it used to be. Free publishing platforms have taken away the fear of the unknown. Now, more and more people are staking their claims to their virtual real estate frontiers and establishing their online presence with beautiful and polished websites. And guess what? A lot of these websites are running WordPress.
The increasing demand for quality and professional looking websites that are easy to install and user friendly has opened up a new income stream for many web designers and developers. Creating WordPress themes has become a designer's playground, and at the same time a career path with a more than decent financial return. Take a look at these top ThemeForest Authors who have carved a niche in the Premium WordPress Themes Provider industry. All stats below were taken at the time of writing this article.
1. Kriesi (Austria)
2. Peerapong (Thailand)
3. Templatesquare (Indonesia)
4. Epicera (United States)
5. OrmanClark (United Kingdom)
Envato Authors receive a percentage of every sale made. Non-exclusive Authors receive 33% of each sale while Exclusive ThemeForest authors' percentage starts at 50% for every sale which then rises incrementally to 70% as more sales are made.
The undeniable success of these top WordPress authors is a combination of hard work, excellent design, and top-notch customer support which all their customers can attest to. All these ingredients together with the commitment to be responsive to their clients' needs complete the whole success package. The numbers tell their stories.
WordPress professionals and those who are interested in being a WordPress themes designer can draw inspiration from the success stories of these Authors. Who knows? It just might be you. There's always room for one more.
Note: Many of the articles on this site include affiliate links that may earn us a commission if you decide to buy the recommended product.
Related Articles