TOP Social Media WordPress Theme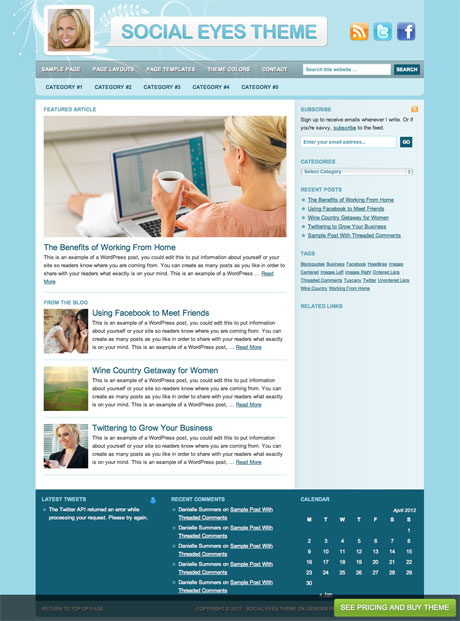 There's no denying the fact that social media has completely changed the way our world operates on so many levels, among them is the way we meet and interact with new people. It wasn't too long ago that meeting someone new likely meant that you made a new friend in the same town you lived in. Our worlds were much bigger then. There wasn't Skype, Facebook, Twitter, or even the Internet for that matter. But as time has changed and new technologies have come into existence, our view of the world has become much smaller. One of the awesome things about social media is the fact that you're able to meet people from all over the globe without having to travel at all. It's allowed us to make connections and form friendships that would have otherwise been possible. If you're interested in setting up a website to use as a hub for all of your social media connections, you couldn't do any better than using Social Eyes premium WordPress theme from StudioPress.
Social Eyes is a child theme that was designed and developed by the team at StudioPress. If you're unfamiliar with child themes and how they operate in the WordPress world, you really should get to know how they work. Once you start using them for yourself, you won't ever want to go back! Essentially, a child theme is a WordPress template that is built on some sort of framework. In this case, all of StudioPress' child themes are built on their own Genesis Framework. The framework provided by StudioPress serves as a foundation for your site to be built on. It holds a great deal of the functionality of your site, and also determines how things are marked up and laid out. Once you install and activate the child theme, what you're essentially doing is activating the styles associated with that theme, along with certain bits of functionality. Doing this allows you to separate the markup of your theme from the style of your theme, so if you ever decide to change out to another child theme down the road, you won't negatively impact your search rankings by completely refactoring your site from the ground up. Instead, you're simply adjusting the way it all looks, but to a search engine like Google or Yahoo!, everything appears to be just as it was.
The power afforded by utilizing the combination of a great framework and child theme can greatly improve the way you manage your website. In keeping content and markup separate from styles, we're able to be more flexible with how we handle refactoring our site. If you're interested in learning more about StudioPress or any of their child themes, go ahead and click the link at the bottom of the post, which will take you to the page for Social Eyes, give you a chance to check out a live demo, and also check out any other themes you might be interested in. Enjoy!
Social Eyes Theme Features
2 color styles
6 layout options
Fixed width
Theme options
Featured images
Threaded comments
Unlimited updates
Unlimited support
Search optimized
One-time Purchase Fee
Access to Detailed Tutorials
Social Eyes Theme: $24.95 | Demo & Download
Note: Many of the articles on this site include affiliate links that may earn us a commission if you decide to buy the recommended product.
Related Articles