TinyPrints – Revolutionary Business Cards Printing on Web
A post on the famous blog Freelance Switch once said:
"A good business card design is an essential tool in any freelancer's arsenal. When you're at a function networking, meeting new clients, or your work comes up in a conversation, your card is the anchor to make sure the discussion doesn't come to nothing.
…the most important thing is to make sure your business card looks smokin' hot!"
– Source
Tiny Prints is a wonderful site where you can make (yes really make) your own business cards amongst many other types of cards.
Social media is a powerful proof of the popularity and success of a business. At the time of writing of this article Tiny Prints had 231,780 Facebook fans and 62,874 Twitter followers. About three lakh social media fans is something very difficult to achieve.
The variety of cards available is numerous. Some of these varieties are
New year cards
Christmas cards
Birth announcement cards – two types are available for boys and girls
Graduation announcements
Wedding announcements
Thank you cards
Religious celebrations
These are only a few categories available on their site. Visit Tiny Prints to find more information.
The best feature of the site is that the cards are very easily customizable. This means you may add your business' logo, any image you like and of course your name, your contact details etc to the card you like.
Dozens of cards are available on the site. So you have a pretty large variety to choose from.
Let me explain how to customize the card you like.
First of all select a card from so many available card options. I have selected the one in the image below.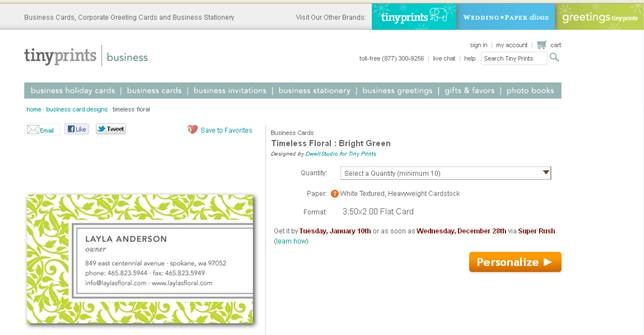 As you can see the name on the card is of "LAYLA ANDERSON" and the designation below says "owner". Address and other contact details are also provided below.
Now I wish to change these things.
Click on the "Personalize" tab in the bottom-right corner of the page.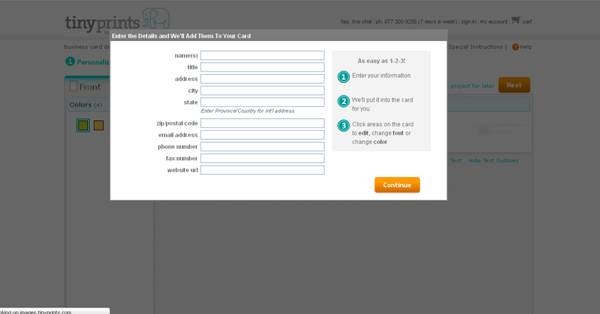 A page as shown in the above image appears on the screen.
The page asks you to fill in the blanks with relevant details.
Fill everything as per your needs and click the "Continue" tab.
You will be headed to a page that looks somewhat like the below image.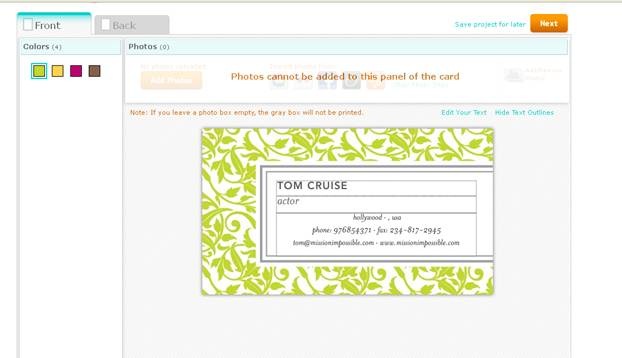 Click "Next" if you are satisfied. If you are not then hover the pointer over the text to change and/or modify the size or font of the text.
After clicking "Next" you will be directed t0 the back-side of your card.
Here you can add an image or logo to your card as the case may be. I've added an image. See the image below.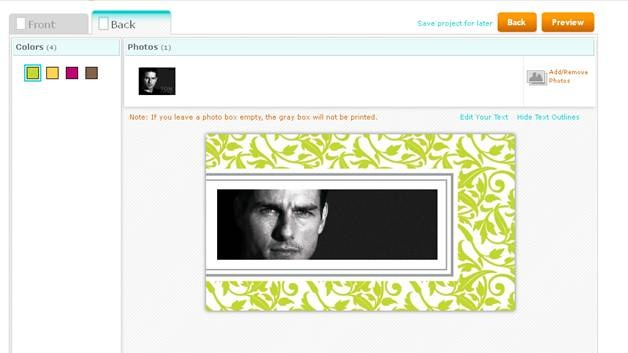 Click preview and you are done!
The final look of the card will be shown as below.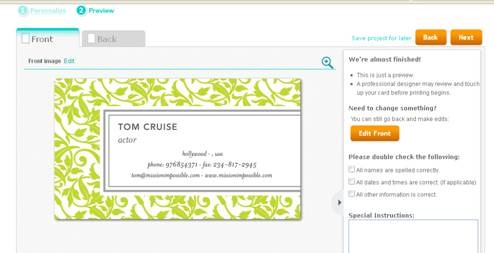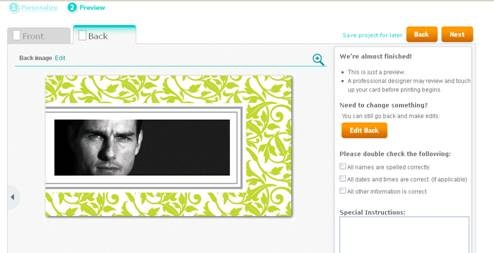 In the end I leave you with some beautiful images of business cards available on Tiny Prints.


---
Related Articles