These Things Will Make Your Theme Sell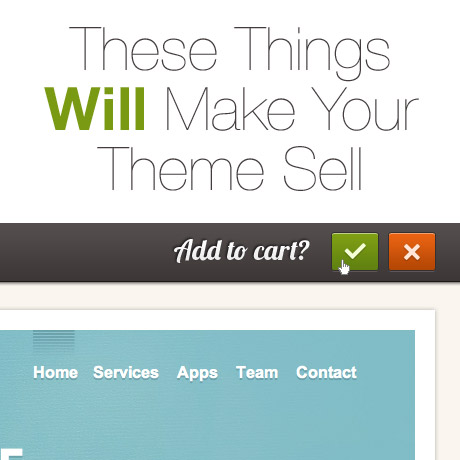 There are many success stories in the WordPress themes market. These themes have incorporated all the right ingredients that contribute to their continued success and popularity. Let's take a look at some of the things that these themes have done right.
Appearance and Aesthetics
Design trends come and go but great design is timeless and classic. WordPress authors and developers who incorporate timeless design principles and techniques into their themes will reap long-term financial rewards. Theme buyers have different needs and preferences so well-designed themes with a variety of options and features like sliders, responsiveness, pleasing layout, excellent typography and customizable theme options like color schemes, posts and widgets will stand out and do well in the marketplace.
Usability and Functionality
Easy to customize and easy to use – these are the key selling points to any successful WordPress theme. Website owners and users do not want to be bogged down by complicated steps or navigation just to get things done. A great backend or admin panel will satisfy theme users' thirst for control, styling and customization freedom while a user-friendly, navigable and fast-loading working theme on the frontend will give your visitors speedy answers to their needs. Adding translation or multi-language functions for international users is also a plus.
Clean Code According to WordPress Standards
WordPress themes that have clean and valid code adhering to WordPress standards and best practices perform better in terms of SEO, speed, ranking, maximum compatibility and user experience. Consequently, these WordPress themes perform better in sales as well.
Excellent Marketing and After-Sales Support
A WordPress theme's sales presentation page is an important marketing tool to promote your theme. WordPress theme features and functions that are described and explained in detail will more likely generate interest and sales for that theme. Preview images, screenshots, an interactive live demo, a list of important features and detailed online documentation give potential buyers an idea on what to expect from the theme. Excellent and prompt after sales support together with high ratings from satisfied buyers will snowball into more and more sales.
These are just a few things that contribute to the success and popularity of a lot of WordPress themes in the market. How about you? What makes a WordPress theme worth buying? Do share your thoughts. We'd love to hear from you.
Note: Many of the articles on this site include affiliate links that may earn us a commission if you decide to buy the recommended product.
Related Articles