These Things Will Make Your Theme NOT Sell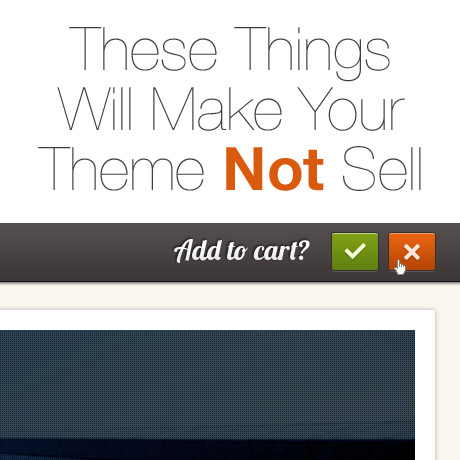 There are different factors that contribute to the lack of interest in many WordPress themes currently on sale. Below is a rundown of some of the reasons for the poor performance of some of these WordPress themes.
Appearance and Aesthetics
WordPress themes that look outdated and old will not stand a chance against the current crop of beautiful and polished premium themes. Poor layout configuration, alignment, spacing, color scheme choices, and typography create an overall impact that will affect your theme's appeal to potential buyers. Visual clutter, feature overload or the lack of it, and the lack of a focal point in your WordPress theme will also cloud your buyer's vision of what the theme can do for them.
Usability and Functionality
Usability is a two-way street. Both WordPress theme buyer and end-user need to be able to use the theme the way it was designed and promoted. Not all theme buyers are WordPress experts and most if not all website visitors are impatient. Theme buyers buy on the premise that they can set up a beautiful website easily and without much ad. Beautiful WordPress themes that are difficult or complicated to install, customize, or manage in the backend will most likely be refunded or replaced by theme buyers.
Themes that have poor navigation, poor readability, and are slow-loading will also lose users soon enough. Visitors skim and scroll through pages to find what they are looking for. If they don't, they leave immediately. Ergo, these type of themes won't sell.
Poorly Coded and Below WordPress Standards
Poorly coded or "spaghetti-coded" themes may run well for a time but bugs, issues and problems will surface later on as clients customize or edit their themes. Incompatibility with the latest WordPress versions and plugins will also make people think twice before purchasing your theme.
Poor Marketing and After-Sales Support
Many WordPress themes do not have enough information or appropriate descriptions on their sales presentation page. Generic or cookie cutter descriptions that do not highlight distinct features of the theme make the theme uninteresting while redundant and overused adjectives like "awesome" and "great" with no specific benefit to the buyer will also get little attention. Potential buyers skim thru these and mentally classify these themes as "Just another WordPress theme" they can afford to forget.
Poor ratings and feedback about the theme and the lack of after-sales support also have a negative impact on the theme's saleability. People are more forgiving when it comes to the theme's bugs and problems that are workable. Potential buyers will take a "wait and see" stance while those who have bought and got burned from the lack or the complete absence of customer support will definitely take their business elsewhere in the future.
These are just some of the things that influence people's decisions when looking for WordPress themes. How about you? What makes a WordPress theme unattractive to you? Share your insights. We'd love to hear your thoughts.
---
Related Articles