The Navigator Premium WordPress Theme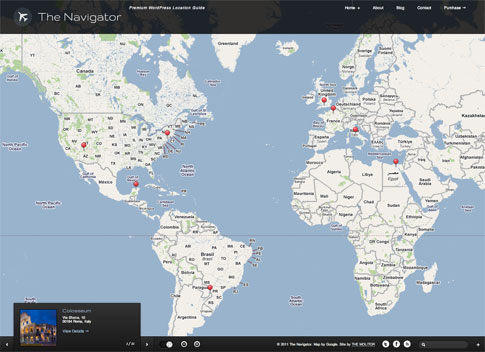 The Navigator premium WordPress theme is ideal for travel blogs and/or location guides. The Navigator is a directory-based theme that utilizes Google maps to display exact locations and provide users the ability to interact with the location. The Navigator premium theme could also function as a real estate listings directory — how's that for flexibility? Make sure to give The Navigator premium WordPress theme a try at the end of this post to see the unique functionality of this truly powerful theme!
The Navigator Theme Features
Supports Google custom fonts library
Google Maps integration
Slideout widget panel
Full-screen image backgrounds
Draggable and collapsible windows
Unlimited link color options
Easy logo customization
WordPress menu support
Super easy admin panel using the OptionTree Plugin
Easy thumbnail images with built-in WordPress system
Free version upgrade if you purchased this theme
Advanced jQuery animations and effects
The Navigator Theme Showcase
Come back and check out the showcase as we find more sites from around the web using The Navigator.
The Navigator: $35 | Demo & Download
---
Related Articles