Strategic Content Management – Practical Tips To Help You Manage Content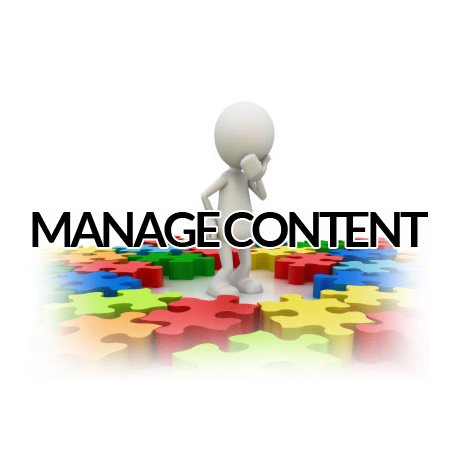 Thinking of revamping your current content structure into something more deliberate and strategic? You get it. Content rules. Google loves quality content. Now what? After evaluating the current state of your content and coming to the conclusion that most of it is "thin" and all fluff, you want to turn a new leaf and start delivering premium content to your audience. Here are some useful and practical guideposts to help you get going in the right direction.
Start with the end in mind.
Set clear and doable goals that you want to achieve for your website, your brand, your business, your income. Don't get into the trap of being "busy" doing so many things that do not contribute to the ultimate goals you have defined for yourself. If possible, break down these goals into bite-size chunks so as not to overwhelm you. Keep it simple.
Keep the target user in mind
The ultimate goal is to have a constant, ongoing conversation with your target market. Understand how they think and communicate in way that they will understand. People read differently on the web and with the advent of the smartphone and handheld devices – reading is equivalent to scanning and scrolling nowadays.
Create content with the user's needs in mind
There are people who already know what they want and they come to your website for that. There are also other people who have an idea of what they want but don't know how to communicate what they want so they come to you to help solve them that problem. Meet both needs.
Content today means more than just text or narratives. Multimedia like images, diagrams, infographics, audio, and video are part of the whole content equation.
The web is a world of the "fast and the furious"
People are impatient and want information as fast as possible. Their attention span is much shorter when it comes to the web. If they don't find what they want on your website, you are as good as a 1-second back button click away. Strive to create content that is concise, readable, searchable and accessible. Good web design is a key contributor to achieving this.
Hire an expert
Writing may not be your strength but it should not deter you from achieving your goals. If you can't do it or you don't have the time to do it even if you can, get someone to do it for you. Outsource it. Create a pool of writers or ask people in your network to guest blog on your website. Simply set the parameters and guidelines and ask people to create content for you.
Evaluate and Assess
Set aside a regular time to evaluate and assess whether you are achieving the results you set out to get. Review statistics and analytics and use data gathered to strengthen and improve your site's performance. This information is helpful in keeping you in touch with the pulse of your audience. Work on establishing your relationship with them to keep the conversation ongoing. This will also ensure that you are meeting their needs as well as being relevant to where they are at any given point.
Note: Many of the articles on this site include affiliate links that may earn us a commission if you decide to buy the recommended product.
Related Articles