Start Building Your Authority Site Using The Google Keyword Planner Tool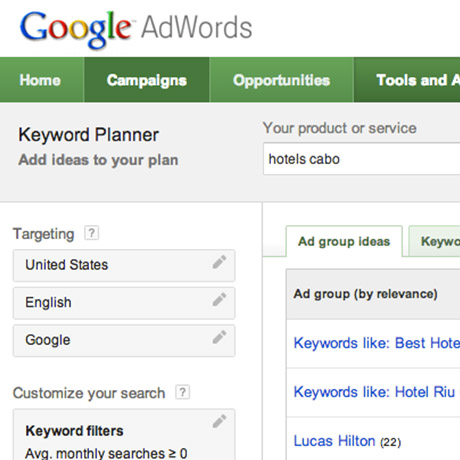 Building an authority site takes a lot of work. Just like putting up any business – it requires investment. Investment in terms of time, resources, skills, and knowhow. The outcome, however, is worth it as these intangible assets increase in value over time. Once your site starts gaining authority, your opportunities for higher visibility in search engine increases and so does your money making potential. On the other hand, your target audience will not only experience the benefits of whatever efforts you put in to deliver useful quality content, they will turn into loyal, engaged subscribers and will voluntarily share your site with all their connections.
How do you actually start building your authority site?
The first thing that you need to decide on is the audience you want to reach out to – in other words, your target market. You need to know whether you can service and sustain such a market for the long-haul. Think marathon not 100-meter dash. You also need to be strategic and deliberate. Start with a plan and do your research.
There are many excellent free tools that you can use to start building your authority site. One of them that you can start out with is the Google Keyword Planner Tool. As of August 28th, 2013, Google's old keyword tool has been replaced with a new tool. Taking its place is the Keyword Planner, a tool that "combines the functionality of Keyword Tool and Traffic Estimator to make it easier to plan search campaigns.
From Google,
With Keyword Planner, we've combined the functionality of Keyword Tool and Traffic Estimator to make it easier to plan search campaigns. That's why Keyword Tool is no longer available. You can use Keyword Planner to find new keyword and ad group ideas, get performance estimates for them to find the bid and budget that are right for you, and then add them to your campaigns.

Keyword Planner is like a workshop for building new Search Network campaigns or expanding existing ones. You can search for keyword and ad group ideas, see how a list of keywords might perform, and even create a new keyword list by multiplying several lists of keywords together. A free AdWords tool, Keyword Planner can also help you choose competitive bids and budgets to use with your campaigns.

A keyword is any word or short phrase that describes a website topic or page. – The more a keyword is used by searchers and websites the more attraction power it has.
Keyword research is key to developing a successful niche site. The Google KeyWord Planner Tool is handy for doing keyword research on specific keywords relevant to the target market you want. It's like finding the pulse or the heartbeat of what your market needs or is interested in and tailoring your site to match those needs. From there, you can start developing a strategy on how to provide sustainable useful quality content that will eventually contribute to your success as an authority site.
How to Use the Google Keyword Planner Tool
In order to access the Google Keyword Planner Tool, you need to log in to your Google Adwords account (free to sign up). Once you log in to your account you will find it under the Tools and Analysis tab. Select Keyword Planner. Below are some of the practical steps you can do to get started with the tool:
Click Search for new keyword and ad group ideas to expand the search section.
Enter one or more of the following in the boxes that appear:
Words or phrases that describe what you're advertising.
The URL of a page on your website or your entire website.
A category relevant to your product or service.
Tip: To filter larger sets of ideas, enter both a word and website URL.
Click Get ideas
Click the double arrows » to add an ad group or keyword idea to your plan. You can use the historical statistics that appear in the table to help you decide which ad groups or keywords are relevant to you.
You can also:
Get search volume for a list of keywords
Get traffic estimates for a list of keywords
Multiply keyword lists to get new keyword ideas
What are the benefits?
Keyword Planner makes keyword research more efficient giving you greater insight into which keywords, ad groups, bids, and budgets you may want to use. You can use it to find more specific keywords that don't have a high search volume, but might be more likely to lead to a conversion. You can search for keyword and ad groups ideas based on terms that are relevant to your product or service, your landing page, or different product categories.
Keyword Planner can be used to get historical statistics and traffic estimates to help you decide which keywords to use. You can filter your results by different historical statistics, choose to see certain keyword ideas, or include and exclude certain keyword ideas. You can target your results by location, language, and network settings. And you can filter your results by historical statistics, keyword options, or choose to include or exclude certain keywords. You can also save the results for later use.
Tools like this can help you set the course for where you want to take your website. Keyword research is just one of the many elements you need to consider as you start building your authority site. There are other indicators that you can look at to determine whether you are on the right track. Observe high volume traffic movements such as your potential or current competition, affiliate networks, or even do research on global or local search statistics to get a feel of your market. There are many quick fixes being sold in the market today but strategic planning and doing your homework will help you lay a good solid foundation your website will reap in the long term.
More on this topic next week.
Note: Many of the articles on this site include affiliate links that may earn us a commission if you decide to buy the recommended product.
Related Articles