SOW 2014 – The State of the Word According to Matt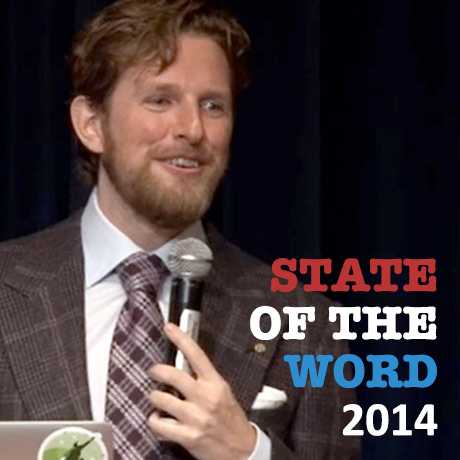 Straight from the Founder
Exciting times are up ahead for WordPress. Here are some of the highlights of the 2014 State of the Word Matt Mullenweg shared during the 9th Word Camp San Francisco event held last Oct. 24.:
The Year That Was
By year end, there will have been 81 WordCamps all across the globe.
WordCamp San Francisco ends this 2014 and will be replaced by WordCamp US – name, location, date to be determined
2014 is a Milestone year for WordPress. It is the first year where non-English downloads surpassed English downloads of WordPress.
WordPress used as a CMS or for blogs has been declining every year. However, WordPress used as an app framework is slowly on the rise.
Out of 33k who took the WordPress survey: 7,539 (25%) of survey participants make their living from WordPress. Over 90% of people build more than one site, and spend less than 200 hours building one.
There have been five major and seven minor releases of WordPress since the last WCSF in July with 785 contributors across them. (Oscar, Basie, Parker, Smith, and Benny) One more is expected to be released (v. 4.1) this December.
WordPress releases from 3.6 to 4.0 include the ff. improvements: Revisions UI, Post Locking, Auto Updates, Password Recommendations, Better Global support, Color Scheme, New Theme Browser, MP6 Redesign, Responsive, Drag and Drop Images, Better Previews, WYSIWYG Image Editor, New Media Library, Rich Embeds, New Plugin Browser, and Improved Editor.
WordPress has risen from 19% and now powers 23% of websites.
There are now 34k plugins and 2.7k themes — including plugins passing 1,000,000 commits.
16 releases of our mobile apps, Android and iOS.
Code Reference was launched.
What's Next?
There are approximately 105 active meetup groups representing 21 countries, with over 100 meetup and WordCamp organizers who were present at the event. Internationalization will be a big focus of the coming year.
Wider concept of "Locale" to include – language, time zone, date formats
Language Packs coming to more plugins and themes in 2015
Fully-localized plugin and Fully-localized theme directories on language sites and embedded on dashboard in version 4.1, coming out December 10th 2014.
Better stats coming for plugin and theme authors.
Version fragmentation is a big challenge for WordPress. Only a 25% of users are currently on the latest release which creates a problem for PHP. WordPress will be working with hosts to help with version fragmentation, as well as to get as many WordPress sites as possible running PHP 5.5 or better.
2015 default theme to be released. Theme design shows a "book-like" typography and feel.
WordPress now accepting GitHub Pull requests.
WordPress is switching away from IRC as its primary communication method and is moving to Slack. Teams can use this to communicate with each other. Slack will be available to every single user of WordPress.org. Slack works on every device.
Five for the Future, with Gravity Forms and WPMU Dev committing to donate, and Automattic now at 14 full-time contributors to core and community.
There is a need to work hard to harmonize the REST API plugin and the WordPress.com REST API.
The Final Word
The mission of WordPress is to democratize publishing, which means access for everyone regardless of language, geography, gender, wealth, ability, religion, creed, or anything else people might be born with. To do that we need our community to be inclusive and welcoming. There is a sublime beauty in our differences, and they're as important as the principles that bring us together, like the GPL. – Matt Mullenweg
Note: Many of the articles on this site include affiliate links that may earn us a commission if you decide to buy the recommended product.
Related Articles