Social Tools For Better Blogging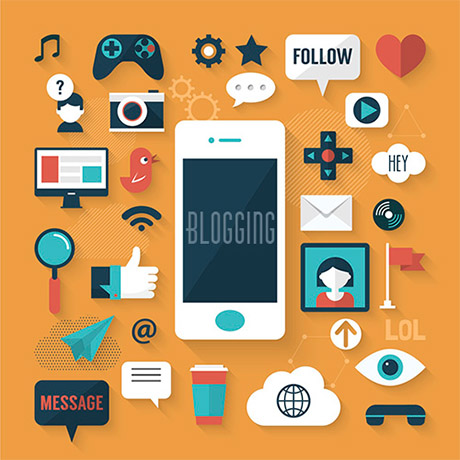 Appealing to today's readers means harnessing the power of social media. According to ShareThis, the amount of shared digital content increased ninefold from 2006 to 2011 globally, and is expected to grow exponentially. Use social media tools to your advantage and bring in the right readers at the right time.
Monitoring Your Online Presence
Free monitoring tools and specialized premium tools can help you understand and optimize your social media presence. A service like Brandwatch tracks mentions and conversations about your brand and competitors. Starting at $800/month, the service isn't cheap, but the information can be used to improve customer service and marketing, like responding to an upset customer or discovering conversion opportunities.
If you're a blogger, a free tool like Social Mention provides useful data like top keywords and hashtags found in queries. Furthermore, Tagboard tracks specific hashtags across the social networks and offers a basic account for individuals.
Attracting Subscribers, Followers and Fans
High quality, engaging content will always be the most effective and authentic method of earning traffic. If you are stuck for ideas, collaborate on copy and don't just post for the sake of posting.
Sometimes great content is timely content. Comment and write about newsworthy topics and issues that matter to readers. Known as newsjacking for marketers, it's just as effective for publishers. Find out what matters to your readers in the simplest of fashions — just ask. Polls and surveys will indicate what your audience looks like and how they act. Conversations through social media and comments will solidify authority on the given topic. For an ever deeper look, install Google analytics and an analytics service like Kissmetrics. Starting at $150/month, the service will track factors like:
Which traffic source or campaign people came from.
How many times they used a specific feature.
Which subscription plan they're on or the last product category they purchased from.
Manage Your Social Platforms
Impeccable content and a proud online presence will do nothing if no one sees it. Social media management has turned into a career field and is big business for digital companies. Firms like Sprout Social and Hootsuite offer many of the tracking capabilities of other services but also offer automated posting and analysis. This is crucial for enterprise accounts, like payroll software company Intuit, that are active on social platforms like Twitter, Facebook and even YouTube.
Just as brands diversify their social sharing, bloggers should share their content across all platforms. Standards should include Twitter, Facebook and Google+. Other sites, like Pinterest, StumbleUpon and Reddit, should also be utilized often. Hootsuite automates five accounts for free and has an app directory for adding networks. However, bloggers should be careful of too much automation. The power of social is lost if you fail to engage with an interested reader in a timely fashion.
Get Mo-blog-ile
According to Kissmetrics, 51 percent of website visitors are more likely to do business with a company that has a mobile site. Just as businesses can expect more and more mobile visitors, bloggers also need to be prepared for a smartphone and tablet audience. A slow loading mobile blog can even be penalized by Google. The first step is to test your mobile website for compatibility. Google's How to Go Mo offers multi-screen testing and analysis. Issues like too much scrolling, image sizing and load speed can all be discovered with proper testing. If you do notice issues, mobile website creation services like Dudamobile can help. A simpler solution is to use the plugin WPTouch for a mobile-friendly theme.
Note: Many of the articles on this site include affiliate links that may earn us a commission if you decide to buy the recommended product.
Related Articles