Social Networks And The World We Live In
Every regular Internet user has probably noticed that, in the last years, the presence of social media has become a banality, remaining however an important way of improving the author-reader interactivity. For someone with experience in the field of the World Wide Web, the chances of not having a profile on websites such as Facebook, MySpace or Twitter are closing in on zero. You need to understand that social media is not only represented by some applications that do not make any sense, reflecting that it is possible that, in the near future, for the search engine algorithms to analyze how many times a website is distributed according to the most relevant social application. Surely, if this fact turns into reality, then we could be talking about a new digital revolution.
In my own experience, it is quite an annoying situation when I try to finish reading a post and I am assaulted by a great collection of logos of various social websites.

To help people who are facing the same situation, I have established here a list of the most important social websites. I believe that some people will find the post somehow uninteresting because they are familiarized with the majority of the social media websites, but maybe there are some that will find it interesting; if I have skipped one that you consider to be extremely important, let me discover it in a comment. I skipped Facebook, My Space or YouTube on purpose because these are too well known.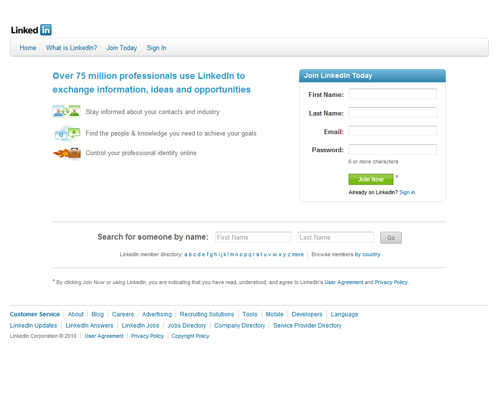 LinkedIn is a professional network where it's more than simple to meet people that are working in the same domain as you. It was founded in December 2002 and now has more than 75 million users. It is used as a business platform and here we have established a lot of contracts; some users find new job and everything presented on LinkedIn works in a very professional way, probably representing the key of success in this great network expansion.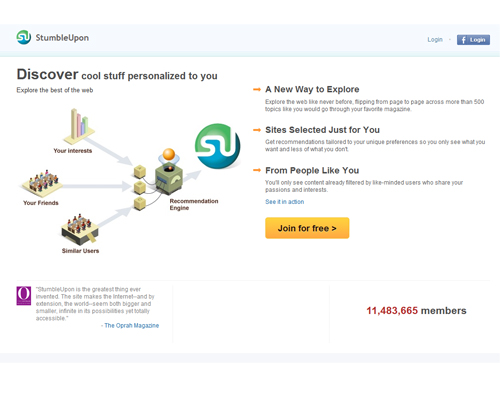 Stumble Upon is a website that any person, interested in finding relevant and top quality articles, blogs or websites could use it. The creators of Stumble Upon made up a collaborative and versatile system that replaces a search engine very well. It's simple: you read a good article and you want other people to read it as well; by rating it, the persons who follow you, will see that you have liked it and they probably will look at it. It is great when a group of like minded people is constituted; in this case, the exchange of links is more efficient.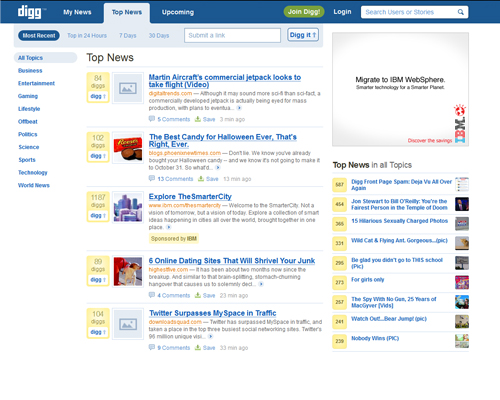 Networks as Digg allow unknown bloggers or good websites with poor ranking to be quickly turned into the most visited places on the Internet; a very good content or post is "digged" and this attracts more and more people until it reaches a top position. It was designed for social news, but now it has evolved in all existing domains. Another cause that contributed to the rise of the social networks is the fact that many of them are interconnected, allowing for the change of information between networks. Sooner or later (it is only a matter of time), the Internet will become an intricacy of various networks.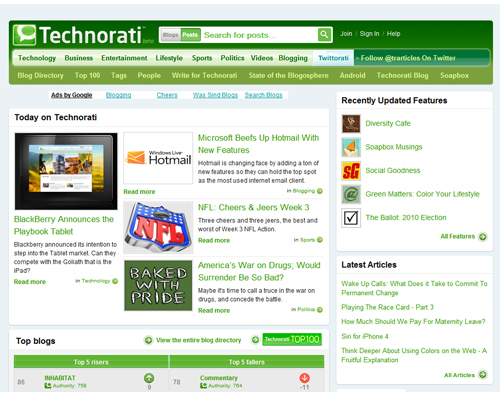 Technorati is a platform that has as a main purpose to catalogue all the blogs, a principle that has many common elements with the algorithms of Google. The name of this platform is the result of blending the words "technology" and "literati", linking to the idea of elitism in technology (according to Wikipedia). The importance of this websites consists in the huge number of blogs indexed and the good directory that present the blogs. On their website, they claimed that last year, the system of measuring the influence on blogosphere was improved (however, it was criticized by bloggers).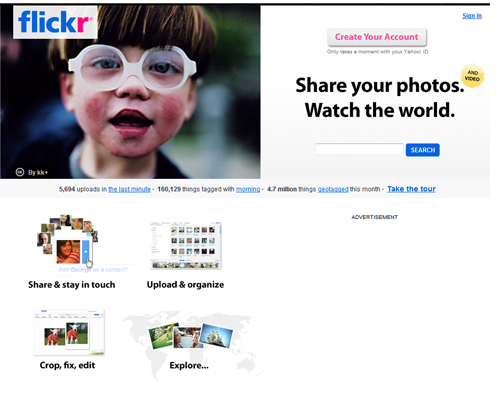 Flickr is the website where the most amazing images are posted; you can find an impressive number of types and categories, with more than 5 billions of pictures uploaded. I, as a designer, strongly state that, on Flickr, anyone could find the most creative images on the web; the only problem is that there are too many!!!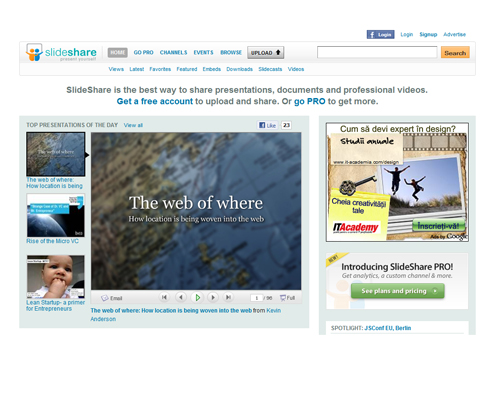 If Flickr allows anyone to upload pictures that respect a common-sense few rules, Slideshare allows for the upload of presentations, PDF files or documents. The site is growing faster, each month more than 25 million people visiting the website. The interaction with other important social networks is very open and this is the best opportunity when it comes to viral spreading. The commercial influence is more prominent than on other social networks: a good presentation in association with a huge number of retweets guarantees anyone good traffic and increased chances of good advertising.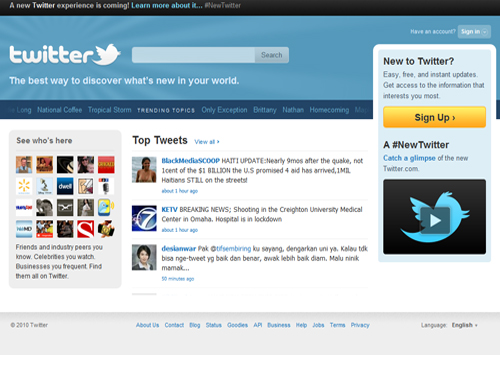 Twitter is the most important platform for micro-blogging. It is based on a simple division: an Internet user could be a follower, but at the same time he could be followed by someone else. Apparently, the number of followers or the rapport between those following and followers reveals the influence of the person, but in establishing the real influence there are many other factors (how those followed interact with the followers, the quality and the number of the re-tweets and so on). The magic of this website is that it allows for somebody to stay connected and find out what his/her idols or models are doing, for example Lady Gaga had 6,538,698 on 28 September 2010.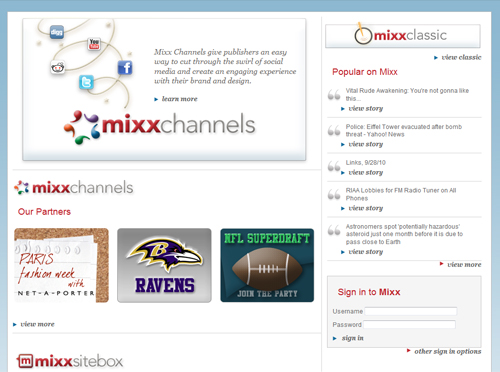 The name of this website is well chosen given its destination. Mixx realizes a good blend between social bookmarking and online ranking resources. Users can submit a link to an interesting online presence but also it's recommended to comment on various subjects or to vote in the polls. A collection of friends who are very important players in the online and real life (channels of news especially) was of strong help in the fast evolution of Mixx.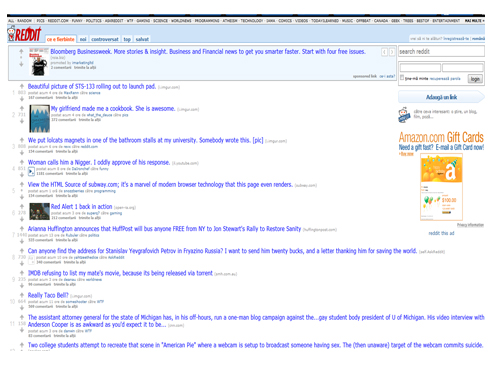 The particularity of this website is the fact that it allows one to categorize the links submitted by other users quite easily. If you want to express your opinion regarding a post, comment or website, then you have two options: the up arrow and the down arrow, the first being useful to show that you agree and the second, of course, to disagree.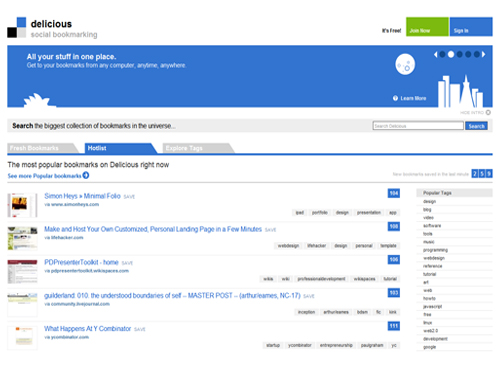 This social bookmarking website has a simple yet highly efficient design, this being one of the reasons that led to the increased number of users. The great advantage of Delicious is that any person can bookmark everything that is important to him with the title desired. Another fact that makes Delicious different from other similar websites is that there is no system of ranking or hierarchy.
There is no doubt that, on the Internet, there are many others important social media presences; moreover, the competition is harsh and the tops merely changing. Anyway, for a freelancer, the social media presence has become a necessity, an invaluable resource when it comes to gaining the attention of potential clients. The impact of social media will be huge when search engines will start basing their ranking on these networks.
Nowadays we are living a major change: for more relevant and high quality information, a search engine is (or will soon become) inferior to these websites, so it is imperative to adhere to social media networks.
---
Related Articles