Sleek Premium WordPress Theme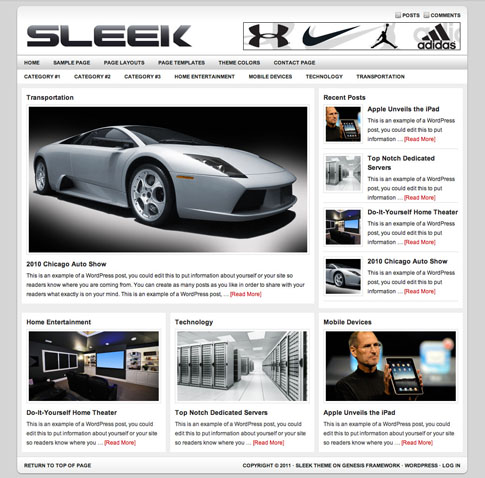 Once upon a time, the technologically-inclined were relegated to geekdom and written of as a group of outcasts and weirdos. Fortunately for myself, those days are long gone and being a nerd is actually in vogue (how far we've come)! Sleek Premium WordPress theme is the perfect template to help bring out your inner sleek geek. It features all of the same wonderful options that you've come to know and love about StudioPress and employs the powerful Genesis Framework. This allows users to separate design and aesthetics from their core code so that search engine rankings aren't hurt when you change the look of your site! You can check out Sleek premium theme at the end of the post!
Sleek Theme Features
Six layout options
Two color styles
Custom background
Featured images
Threaded comments
The Genesis Framework

Genesis is Search Engine Optimized
You put a lot into your site — you want to make sure that you're ranking well in the search engines so readers, customers, and clients can find you. And clean, optimized code is important for achieving the best rankings possible. State of the art code and smart design architecture make it easy for search engines to see what you've got. With automatic updates to the Genesis Framework, you never have to think about it again. Your code will always be up to date and fully optimized.

Genesis Offers Great-Looking Turn-Key Designs
You want sleek, professional design — without paying a fortune for it. The 31 Genesis turn-key designs give you an array of beautiful frames for your content. And of course, they're constantly adding to your design options. The way your site looks can be instantly updated by what's called a child theme, while all of the SEO benefits and the core Genesis functionality remain untouched. That means that changing the look of your site is a snap — and you don't need a designer or developer to do it. If you decide to pick up the StudioPress Pro Plus All-Theme Package, you'll also get access to all 31 child themes offered now AND every child theme created in the future — at no additional cost!

Genesis Gives You Unlimited Everything
You get unlimited support. Unlimited updates. Unlimited websites. There's no "Developer Option" with StudioPress. One low price entitles you to unlimited lifetime support, updates, and domains you can build on. If you've got multiple websites (or client projects), Genesis offers unparalleled value.
Sleek Theme Showcase
Come back and check out the showcase as we find more sites from around the web using Sleek.
Sleek: $24.95 | Demo & Download
Make sure to check out StudioPress' purchasing options…the real value is in the Pro Plus Package!
---
Related Articles