ShapeShifter 2 WordPress Theme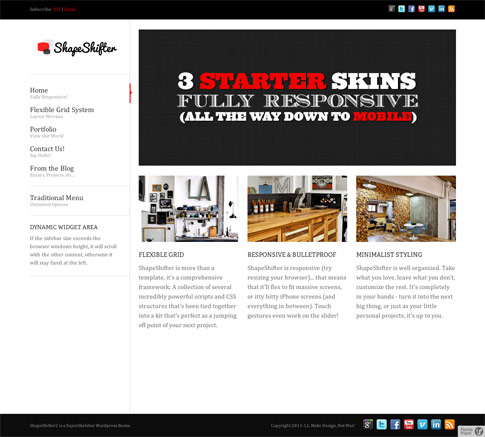 ShapeShifter 2 premium WordPress theme is the third responsive offering from epicera's "Super Skeleton" set of themes. Try resizing your browser so that you can see exactly how ShapeShifter 2 premium theme works. The beautify of this particular responsive layout is that it not only works well on mobile devices, but it looks great on larger screens, too! I feel that this is one area of responsive design that is typically forgotten, but designing for the larger screens is just as important as making your site work well for mobile. Check out the features below and the live demo at the end of the post!
ShapeShifter 2 Premium Theme Features
Fully responsive WordPress theme and theme options manager
The Super Skeleton UI Kit (exclusive freebie PSD)
3 minimal skins and 2 font stacks to start with
Individual skinnable PSD files for all major UI elements
Organized CSS files, including easy-to-use media queries sections
Filterable portfolio/gallery system
Non-obtrusive JavaScript (major elements work in all browsers)
Extensive documentation
ShapeShifter 2 Theme Showcase
Come back and check out the showcase as we find more sites from around the web using ShapeShifter 2.
ShapeShifter 2: $35 | Demo & Download
Note: Many of the articles on this site include affiliate links that may earn us a commission if you decide to buy the recommended product.
Related Articles