Service Review: PixelCrayons – PSD To HTML/XHTML/CSS
Writing about your sponsor always gives a feeling of excitement and happiness. It could be seen as a unique way of thanksgiving to those who trust on you and your website or blog, and attach their brand name with yours. And of course put in their money for a particular period of time.
This is why I am happy to write about Xhtml.Pixelcrayons.com , writing for them was not at all difficult. After little research work about their services and reading their clients' feedback, I got assured about the quality of their work. And yes! As they say first impression is the last impression, I am very much impressed by their website.

Work Process
---
The work process followed in the company is very briefly and diagrammatically explained on their website. The whole process is explained in 5 steps, with the description written for every step.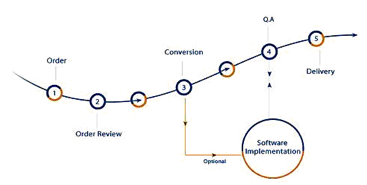 The moment your order gets confirmed it is sent to review to one of their departments. From there it is sent for conversion process and then to their quality analysis team (if no software implementation is required). After their QA team shows a thumb up the project is delivered to the clients.
Order form
---
Fill the simply made and easy to understand order form expressing your specifications, upload your file in any format like PSD, JPG, GIF, PNG, AI, ZIP or PDF. An order confirmation notification will be sent to you after you place the order and a project manager will contact you who upon confirmation of the order will start working on your projects.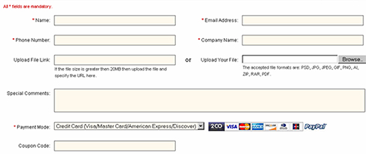 Pricing:
---
The Basic Package – starting at $99
• Markups: HTML 4.01 Transitional, XHTML 1.0 Transitional
• W3C Validation: CSS, XHTML & HTML
• I.E 6.x / 7.x, Mozilla Firefox, Safari
The Professional Package – starting at $199
• Markups: HTML 4.01 Transitional, HTML 4.01 Strict, XHTML 1.0 Transitional, XHTML 1.0 Strict
• W3C Validation: CSS2 (Advanced CSS Code Structure), XHTML & HTML Browsers Compatibility: I.E 6.x / 7.x, Mozilla Firefox, Safari 2.x/3.x, Opera, Konqueror
• Includes: SEO Semantic Code, Load Speed Optimization, Complete Presentation Separation, Maximum Cross-Browser Compatibility
*Money Back Policy
*50% Discount Scheme
Work Quality
---
You will be pleased to see the quality of markup, which is clean and semantic, and have systematically organized CSS files. The quality speaks for itself. You can also check out their Portfolio section.
Conclusion
---
To those who wish to get their image files or PSD to HTML/XHTML, XHTML.PixelCrayons.com can be their quality shop. The company provides SEO friendly, valid CSS/XHTML and W3C Validated code that too in pre-stated budget and time-period. You will get manual coding done within 8-hours (depending upon the complexity of the project), 24*7 personnel support and good quality output.
So, at any point of time if you feel the need of such a service provider visiting Xhtml.Pixelcrayons.com can be a wise decision.
---
Related Articles