Salutation Theme — 10 Photos Show It's Worth Every Cent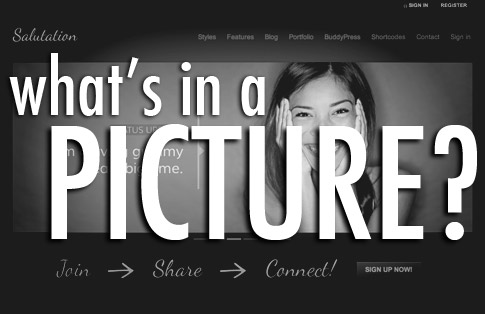 As the saying goes, a picture is worth a thousand words. Well if that logic holds up, we've got ten thousand words and then some coming your way to show you exactly why Salutation premium theme is one WordPress template worth all the hype it's received (that's if the 700+ purchases and unanimous five star ratings haven't already won you over). So grab your favorite beverage and get comfortable — we're going to be covering a lot of ground here!
1. Clean Markup

It should go without saying that if a theme's markup is lacking, your issues are only going to snowball from there. The markup of a theme is its foundation, its core — it deserves the utmost attention. Salutation is coded using all of the latest and greatest web standards including the much vaunted HTML5.
2. Multiple Styles

Your website's needs aren't the same as the next guy, so why would settle for aesthetic limitations? Salutation premium theme has multiple unique styles baked right into the theme, while styling of individual elements is incredibly easy. You'll have a great theme with an awesome look up and running in no time.
3. Plenty of Layouts

While styling your website is certainly a big deal, formatting your content is equally important. That's exactly why Salutation theme comes loaded with various layouts, which allow you to share your information in the best possible way.
4. Engaging Portfolios

Times are changing, and it isn't enough to just place your portfolio online anymore. You have to ensure that your creative showcase grabs the attention of those coming to look at what you have to offer. First impressions are everything — don't leave this one up to chance.
5. Contact Form Builder

With Salutaiton's contact form builder you can add custom fields to your contact forms from the admin options. Any number of custom fields can be created and attached individually to any form. Includes options for custom validation, custom error messages, CAPTCHA and more!
6. Tons of Shortcodes

Think you've seen lots of shortcodes in other themes? You haven't seen anything like Salutation. Utilize options for image styles, button styles, icons, lists, quotes, text boxes, tabs, toggles, pricing tables, columns, dividers, blog posts, portfolios, galleries, contact forms, slideshows, and more!
7. Popup Login Form

This minimalistic popup login form offered up in Salutation premium WordPress theme is one of those features that's easy to overlook, however, it's also one of those little details that adds a certain polish and finishing touch to the template.
8. BuddyPress Ready

Like BuddyPress? Well so do we, and Salutation premium theme is BuddyPress ready. Build a social network for your company, school, sports team, or niche community all based on the power and flexibility of WordPress.
9. Homepage Slider

A well-styled homepage slider can create a powerful impact for your visitors as they come to your site, and Salutation delivers big-time in this department. The beautiful minimalistic styling and clean transitions add an incredible sense of professionalism that is hard to match in the world of WordPress.
10. Admin Options

Salutation has an unbranded administrative interface with options to add your logo to the admin panel as well as other company details, set permissions to restrict client access to theme options, and more. To disable access to advanced developer features you can optionally hide the developer panels before turning the site over to your client.
Salutation: $50 | Demo & Download
Salutation premium WordPress theme is truly too good to pass up — Purchase it today for only $50!
Note: Many of the articles on this site include affiliate links that may earn us a commission if you decide to buy the recommended product.
Related Articles