Promote Your Portfolio and Get 3000+ Graphic Elements from Trendypacks
Our friends at Trendypacks are offering more than 3000 graphic elements for our readers. Trendypacks is a graphic design company which offer design elements such as: vector packs, photoshop brushes and psd files that helps you to create your awesome designs in minutes! By entering the contest, you will have a chance to be a winner who can download special design elements pack, called Infinity Design Pack. You would have a second chance to be one of 10 readers to download their single packs at your choice.
How to enter the contest:
Infinity Design Pack is a collection of vector graphics, photoshop brushes and psd files. With Infinity Design Pack, you will get access to ALL products listed on TrendyPacks.com (more than 3000 graphic elements), you will be able to download the entire collection of vector packs, brushes packs and psd files + bonus free updates with their products for a period of 6 months.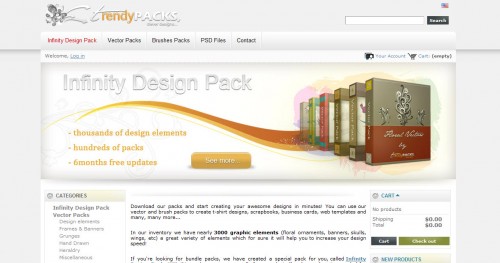 It's easy as 1 comment and 1 link
Drop a comment here included a link to your portfolio.
Enter the contest to receive thousand of design elements and it's also a great way to promote your design works. The contest is not based on how good your portfolio is, so just enter it at your enjoinment.
Entries will be accepted up until August 5, 2010, a winner who win Infinity Design Pack included 3000+ Graphic Elements will be announced the August 7, 2010.
In case you are not lucky enough, we have up to 10 single design element packs for 10 other readers. Your winning packs will be your own choice: one of Vector Packs, Brushes Packs or PSD Files.
Here you go!

---
Related Articles