Price Compare Theme by Templatic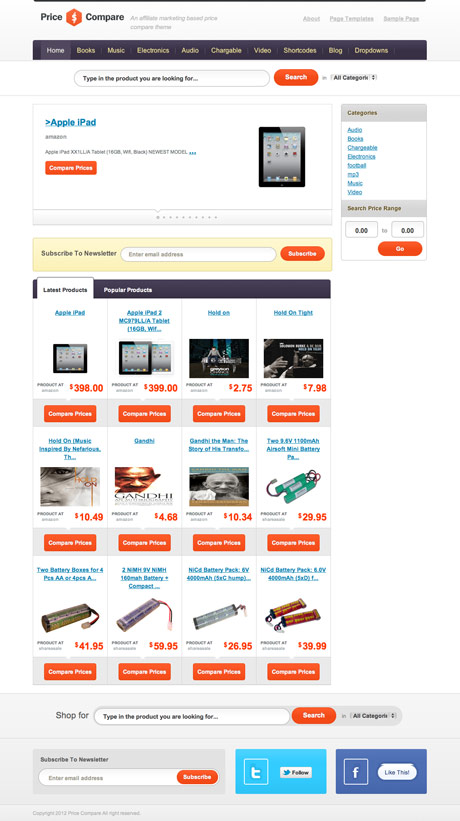 People love to compare products and prices before they buy. They feel really good when they find an item they've been eyeing for quite a while in a store that actually sells it a lot cheaper than the rest. That's why review sites and price comparison sites that provide this kind of service do really well.
If you would like to put up your own price comparison site and start off on the right foot take a look at Templatic's Price Compare Premium WordPress Theme. This easy to install theme comes ready to stream thousands of products from Amazon and Commission Junction to your site in no time. This stream can also be expanded to add your own feeds and your own affiliate links using .csv files in the admin back-end. Great way to consolidate all your marketers in one place and earn from your affiliate links at the same time. Choose the type of products you want to setup and compare: books, music, electronics, videos, cameras, or just about anything you like. Setup is a breeze.
The homepage is fully widgetized and can be modified the way you want. Tweak the layout to add your own logo and favicon. The drag and drop feature makes adding and removing content simple. 30+ unique shortcodes are available to customize the look and feel of your site. Change skins, fonts, backgrounds, links, with just a few clicks. A dedicated blog gives you room to write articles, updates, reviews, announcements, etc. to update your visitors. It's got everything you need to get you started.
More features:
Homepage Brands carousel
Homepage/Sidebar Product categories
Currently supports USD, EUR, GBP and provision to add additional currencies
Post thumbnail/Featured image support
Brands Template with inbuilt glossary
Search products using price range filter
Built-in Ad Monetization
Built-in SEO options
Customers will receive all PSD files with multiple use license and theme support available in the Support Forum.
Price Compare Theme: $65 | Demo & Download
Note: Many of the articles on this site include affiliate links that may earn us a commission if you decide to buy the recommended product.
Related Articles