Premium WordPress Themes VS. Free WordPress Themes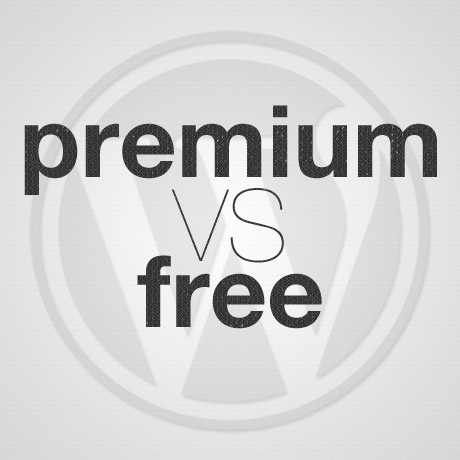 Premium theme or FREE-mium theme anyone? What to choose? It's a common dilemma faced by anyone who wants to put up a blog or a website. But I think the questions that should first be asked are: Are you a casual blogger or a serious site owner? Who will host and publish your content? What platform will you use? Are you willing to pay or are you happy with whatever's free? Once you've settled the answers to these, you can then gauge how involved and committed you want to be in maintaining your own website. Once you determine that, you can proceed to weighing the pros and cons of a free theme vs one that you actually pay for (premium).
There are tons of sites that host content for free and there are equally hundreds of free templates and resources to customize it as well. The downside to these free publishing sites is that you are merely "renting" a portion of their virtual estate and your content may disappear in case the Terms and Conditions change, or worse, the site shuts down. Losing content that way is not cool at all. A self-hosted website is still the way to go because it gives you full rein on what you publish, when you publish and whatever else appears (ads etc.) on your website. You retain full rights to all your content – images while building a reputation as a serious and credible website.
So you've decided to self-host your own site and you've decided to do it on WordPress. Great! The next step is to determine how you want your site to look. You can hire a theme designer or you can also buy a PREMIUM WordPress theme or simply download a FREE theme that fits your needs. Choosing a Premium theme over a Free version and vice versa is totally up to you and your requirements as a site owner. Let's take a closer look at what to expect from either one of them.
Free WordPress Themes:
Pros:
Free
Great for newbies, casual bloggers, sites not regularly updated or on standby
Simple design and structure make it easy to maintain
Less bells and whistles = more focus on content
Freedom to try out different looks at no cost
Quick and easy installation
Large number of free themes available
Not all free themes are ugly
Cons:
Limited or zero theme support and updates
WordPress version compatibility issues
Limited features
Encrypted links and unwanted ads and backlinks that can be a source of malware (malicious code) or site crashes
Not ideal for a business website
Code issues that may affect SEO, loading time or compatibility with certain plugins
Security and privacy issues
Some free themes are ugly – "free themes that look free"
Premium WordPress Themes:
Pros:
Value for money – You get what you pay for
Control over the look, content, and branding of the site
Author commitment to clean code and architecture – usually in sync with the latest WordPress version
Reliability
A lot of bells and whistles. Feature-rich and packed with functionalities for further customization and enhanced user experience
Great for experienced bloggers and serious website owners (entrepreneurs, business owners, eCommerce sites)
Built-in SEO
Theme package includes regular theme updates, detailed documentation, dedicated Support Forum (majority of themes) for adjustments, troubleshooting and other theme related issues
More unique, high-quality design options that can be customized to fit your site – beautiful and professional looking websites
Cons:
Not free – some are a bit pricey
Front-loaded costs (domain, hosting, theme etc.) may not be recovered fully when the site shuts down prematurely
Additional charges for more than basic theme customization
Some licenses may be restrictive. Theme use may be limited to one or two sites so purchasing a developer's license might be more beneficial
A lot of bells and whistles. Sometimes less is more
The Bottomline
Regardless of what type of theme you choose, the theme should meet, if not all, most of your needs – design-wise and function-wise. It should be fairly easy to customize straight out of the box without spending hours and hours of tweaking. Free themes are a great starting point while you are on a learning curve. It's like a sprint to where you want to go. Premium themes take you much further than a sprint. Whatever you choose, the theme you decide on should serve your purpose and help you achieve the goals you have in mind for your site – for you and for your target audience.
Note: Many of the articles on this site include affiliate links that may earn us a commission if you decide to buy the recommended product.
Related Articles