Practica Premium WordPress Theme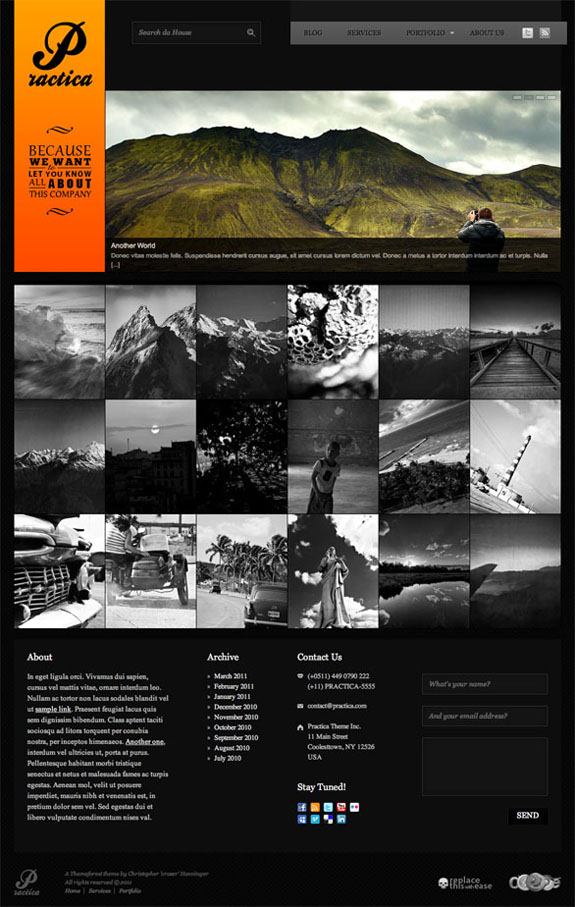 In talking to many bloggers through the years, I have come across a wide variety of needs and wants that continue to pop up in most discussions — we always want something cool, fun, fast, easy, creative, different, sophisticated, flexible, et cetera. However, one word that I don't hear too often is "practical." At the end of the day if your theme isn't pracical and your users find no intrinsic value from visiting your site (e.g. difficult to find content), then all of those bells and whistles are for not. Practica premium WordPress theme is the perfect example of a layout that is sound and usable — and still manages to sneak in a few of those bells and whistles we talked about earlier! Your images, photographs, designs, and products are Practica's first priority as it makes your images stand out, giving them all of the attention they need. Practica will amaze you with its speed, simplicity, efficiency, and beauty…and above all, its practicallity!
Practica Theme Features
General
Built-in WordPress administration panel
Built-in shortcode buttons in the visual editor
WordPress 3.0 menu-enhanced
Multiple widgetized areas
12 color presets + 22 background patterns/styles
Hierarchical structure: typography, content, images, 4-column bottom area
Extensive video guide
Valid HTML & CSS
Ordered, indented, clean, & commented code
Automatic image grayscale-hover effect
Automatic jQuery zoom plugin
Automatic image-resizer
Automatic built-in PrettyPhoto lightbox
Automatic & customizable text truncator
Animation effects
jQuery scrollable information area
Built-in Nivo slider
Unobstrusive, non-destructive jQuery plugins
jQuery vertical dropdown menu
jQuery/CSS/PHP smart contact form
Adjustable number of thumbnails on homepage
Disable/enable & choose your advertisement images
Instant set-up with categories
Customizable meta-data section
Smart thumbnail navigation
Unique & selective services-boxes
Dummy content to make your new install look like the Demo
Practica Theme Showcase
Come back and check out the showcase as we find more sites from around the web using Practica.
Practica: $35 | Demo & Download
---
Related Articles