Placeholder Free WordPress Theme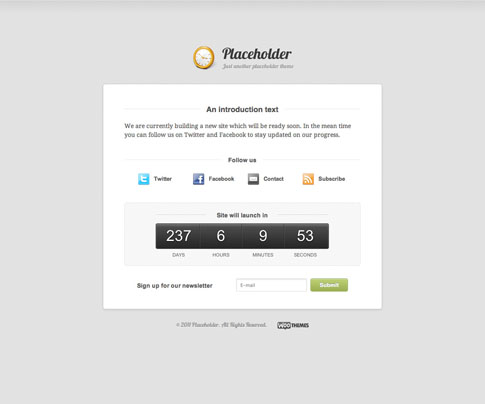 Placeholder is a free WordPress theme that is the perfect solution for those of you who have a website in development. The Placeholder theme simply allows you to let your visitors know how to get in touch with you and how long it will be until the site is finally launched. It is the perfect solution to add an extra layer of professionalism to your development so that nobody has to see all of the messy bugs you're sure to be working out over the next couple of weeks!
Placeholder Theme Features
Functional landing page — A countdown timer to let your visitors know when your website will be live, social buttons, and a simple e-mail op-in form to allow users to follow your progress.
Custom typography — You can customize basic typography in the theme, and there is full support for Google Fonts in the font selector.
Alternative styles — Placeholder theme includes 5 alternative color styles, which you can preview in the demo, and also has styling options for background color and image in the options panel!
Standard Placeholder Theme Features

Backend Theme Options
Making simple changes without editing code — like adding your own logo, changing to an alternate color style, or adding Google Analytics — couldn't be easier with WooThemes' backend options panel.

Cross-Browser Compatible
WooThemes has tested their layouts to ensure they are compatible with all the modern web browsers like Firefox, Safari, Google Chrome and Internet Explorer. All are web standards compliant.

Auto-Sizing Thumbnails
An image resizer script built into the Woo Framework automatically scales your post images for pixel perfect display in your template. No need to upload new cropped images when re-designing your website.

Localized for Translations
All of WooThemes' templates come packaged with a PO file for easy WordPress translations into your desired language — editing one neat, little file without hunting down text in all your theme templates. (Supports WPML plugin)

Woo Framework
All themes are built on the same Woo Framework — modifications through the options panel are a breeze, and all is neatly coded for search engine readiness and further theme development.

Custom Page Templates
Every WooThemes layout comes packaged with a full-width page template without the sidebar, and sitemap/archives page templates for efficient quick links to all the hidden posts you wrote ages ago that still deserve to be seen.
Placeholder Theme Showcase
Come back and check out the showcase as we find more sites from around the web using Placeholder.
Placeholder: FREE | Demo & Download
WooThemes has plenty of other great free themes — make sure to check all of them out!
Note: Many of the articles on this site include affiliate links that may earn us a commission if you decide to buy the recommended product.
Related Articles