Page Builder from Elegant Themes – Now Available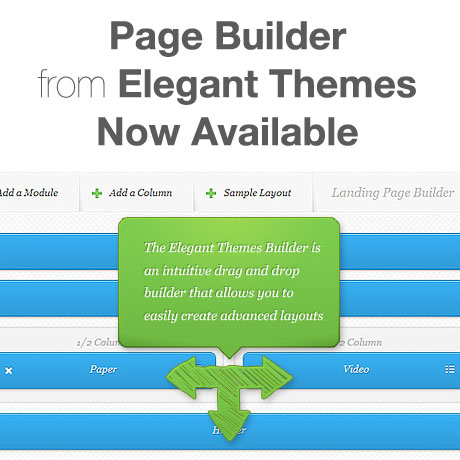 If you haven't heard of the latest plugin released by Elegant Themes, you need to drop everything and check out the Elegant Themes Builder. It's a plugin that all WordPress users, whether you are an Elegant Themes member, a WordPress professional, or an ordinary WordPress user, will find absolutely useful. Non-technical people or WordPress newbies will find this plugin quite easy to use.
What can you do with it?
Use the Page Builder to create unique layouts for each post or page
Drag and drop "modules" or page elements from a list of available modules and create a unique page without writing a single HTML code
Easily configure how page elements will look on the page — you can drag, drop, resize and rearrange to your heart's content
Quickly create columns, sliders, tabs, buttons, toggles, boxes, and so much more
Use it on any theme, not just Elegant Themes
What's in the Page Builder plugin toolbox?
Buttons
List Styles
Image Slider
Lightbox Images
Large Quotes
Testimonials
Paper Callouts
Video Embedding
Toggled Content
Tabbed Content
Content Sliders
Box Styles
Page Builder Plugin is part of the Elegant Themes Developer's Package. Check out all the other awesome things included when you sign up under this license and make creating websites fun, easy, and yet still elegant in every way.
Check Out the Page Builder Plugin!
Note: Many of the articles on this site include affiliate links that may earn us a commission if you decide to buy the recommended product.
Related Articles