Organic Themes Developer Pack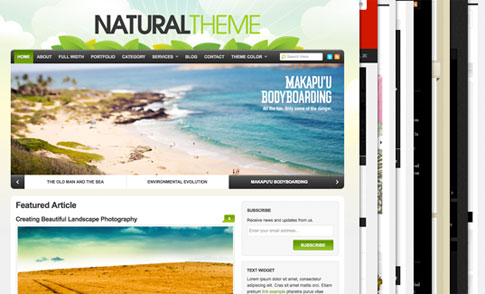 With the purchase of Organic Themes' Developer Pack you will receive all current and future themes from Organic Themes! There are no hidden costs or recurring fees — this is an incredible deal for high quality premium WordPress themes that shouldn't be passed up on. You will get all current and future themes for one LOW cost of $249, which also includes access to the support forums and all design files and future theme updates. Don't miss out on this incredible opportunity — check out the Organic Themes Developer Pack today!
Organic Themes Developer Pack Features
All current themes
All future themes
All theme updates
All theme design files
No recurring fees
Access to all support forums
Standard Organic Themes Features

Fresh Design
Organic Themes creates all of their professional theme designs with care, quality, and precision — taking special care to make sure that no two themes look the same.

Helpful Support
Organic Themes provides a wealth of knowledge in their support forums with extremely helpful moderators and theme customizers, as well as plenty of valuable resources.

Clean Code
Every theme is coded with the developer in mind, providing W3C valid code and clean formatting for easy theme customization.

Browser Compatibility
Organic Themes' layouts are designed to work seamlessly across all modern browsers including Firefox, Safari, Chrome, Opera, and even Internet Explorer.

Mobile Friendly
All themes are viewable on most mobile devices, including Apple products. They are fully accessible, which translates in to more visitors.

Regular Updates
Organic Themes provides updates for their themes on a regular basis to keep them bug free, and to take advantage of the latest offerings of the WordPress platform.
Developer Pack: $249 | Demo & Download
---
Related Articles