Opt In Boxes – Are You Turning People Away?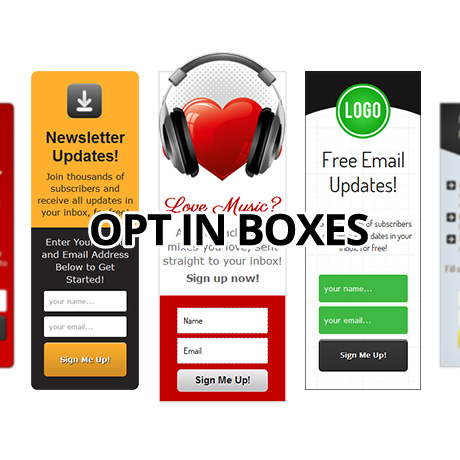 So you've been trying to build your email list via your website's and you're wondering why it's not getting the results you thought you would get. You built it but they haven't come. What's wrong?
People arrive at your website for various reasons. It can be anything, really. Some deliberately. Some by accident. However, how they arrive may or may not matter as much as the end goal of directing them to do what you really want them to do once they get to your website. Ergo, being part of your business list.
People have also become more wary of websites wanting them to give up their email addresses. Many have become really picky especially if their need for "safety and security" about their personal information is not addressed or if they feel that the site is just out to harvest or take in as many emails as possible. They may sign up with a bogus email address or some dormant or dummy email account they never really open. Some get turned off by "in your face" opt in boxes while others deliberately look for it straight away to get whatever you have been promoting. Understanding how your market behaves and the industry you are in will help you decide how to set these opt in boxes effectively.
Here are some tips to consider as you strategically design and build your opt in boxes:
Avoid diversions. Trim distractions. Send people to the CTA you want.
Location. Location. Location. Where you put your opt in box matters. Areas where you can put your opt in box(es):
Feature box
Top Bar across the top of your site
Top of Sidebar
Footer
About Page
Bottom of your posts
Light Box Pop-overs or Pop-ups (timed)
Scroll triggered box
Welcome Gate or Landing Page
Be deliberate. Make the opt in form prominent and not hidden in some obscure corner on your webpage.
Make the offer irresistible. Give your visitors enough reason to sign up, subscribe, register, or buy. The perceived value of what they are receiving should be relevant and worth the exchange.
Use a heatmap to analyze where visitors click/spend time the most.
Test. Review. Revise. If it doesn't work, don't be afraid to try something that will effectively reach your audience and make them feel that they are more than just an email address to you.
Note: Many of the articles on this site include affiliate links that may earn us a commission if you decide to buy the recommended product.
Related Articles