News WordPress Template – StudioPress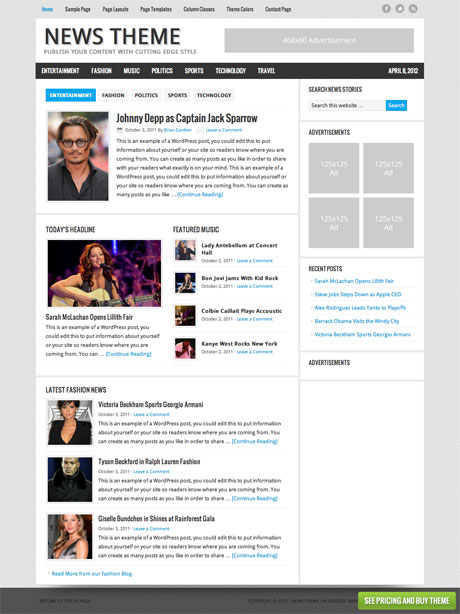 We truly do live in the "Information Age." Think about how drastically different things are these days compared to ten years ago. Heck, even within the past year things have changed at a dizzying rate. We're surrounded by twenty-four hour news cycles, text messages and phone calls from friends and family that keep us updated, and last but not least an Internet that never sleeps and provides users around the globe with the information they're seeking in a tireless manner. It really is an incredible time to be alive and experience.
Perhaps one of the greatest developments in recent years has been the increased prominence of the blogger. We've seen the realm of the blog change over time from relative obscurity where it was regarded as a source of information that could never be considered credible to a time where we have major news networks sometimes getting beaten on big stories by people around the globe who are inspired and dedicated to keep the public informed. If you find yourself in a similar place and you're looking for a way to share your passions and observations with the world, you should definitely look into giving the News premium WordPress theme by StudioPress a look.
News premium theme truly is a publishing powerhouse that delivers your content with a stylish flair that is easy to browse through to discover what you're looking for. It supports all media types that you might have to share at any time from articles to audio to video. Intuitive navigation makes for an enjoyable user experience, which will surely keep your readers and their eyes on your content longer.
There are multiple layout options available with News theme, which is perfect for customizing your site to match the look and feel you want. Plenty of other included theme options make for easy branding of your WordPress install so that you can begin building your news empire today with little hassle! Additionally, you can rest assured that for the lifetime of using News premium WordPress theme, StudioPress will provide you with unlimited updates and support for any updates that might (and always do) arise down the line. Take some time to go through News theme by following the demo link at the bottom of this post and enjoy!
News Theme Features
6 layout options
Fixed width
Theme options
Featured images
Threaded comments
News Theme: $24.95 | Demo & Download
Note: Many of the articles on this site include affiliate links that may earn us a commission if you decide to buy the recommended product.
Related Articles