Mr. & Mrs. Premium WordPress Theme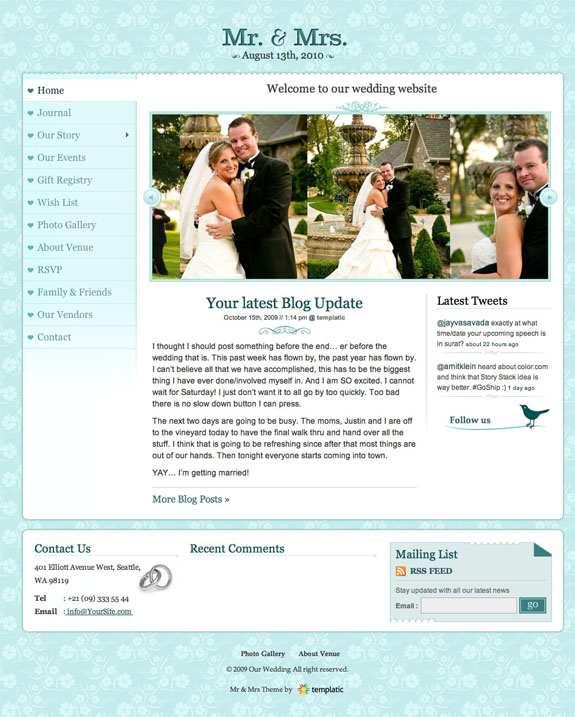 As most of us know, the Internet was built with one purpose in mind: to share information quickly and easily. As it has aged, the web has grown out of the boring old days of white backgrounds, black text, and blue hyperlinks, and developed into something much more fun, engaging, and personal. The trend I've noticed in recent years that I think is really swell (I'm an old soul at heart) is when couples put up wedding-themed sites to help share all the news about their big day! Mr. & Mrs. is a premium theme to help you do just that. You'll enjoy creating your wedding website with the Mr. & Mrs. theme and maintaining your content is a breeze. After all — the last thing you need while planning your wedding is one more headache. So sit back, relax, and let Mr. & Mrs. premium WordPress theme do all the hard work while you enjoy the most joyful day of your life!
Mr. & Mrs. Features
One click auto-install
Three detailed color schemes
Excellent support
Customizable header region
Theme guide & tutorials
PSD file included
Dropdown menu
Breadcrumb navigation
Gravatar support
Threaded comments
Built-in ad monetization
Search engine optimized
Widget-ready with custom widgets
Valid, cross-browser compatible
Advanced Mr. & Mrs. Features

Fully Customizable Homepage
The front page of your theme is completely customizable with graphics and original content in the admin panel.

Custom Control Panel
This premium theme has an easy-to-use, intuitive control panel that allows you to configure all aspects of your blog without touching the code.

Localization Support
Translate Mr. & Mrs. theme into your native language! Native translations of all blog content can be done through the theme's advanced control panel.

Auto-Resizing Thumbnails
The Mr. & Mrs. theme dynamically generates thumbnails from the images you upload so you won't have to create separate thumbnail images.
Mr. & Mrs. Showcase
Take a quick look at some of the sites from around the web using the premium WordPress theme, Mr. & Mrs.:
Mr. & Mrs.: $65 | Demo & Download
Tough choice? Don't limit yourself — enjoy access to the entire Templatic club for only $299!
---
Related Articles