Monotone Free WordPress Theme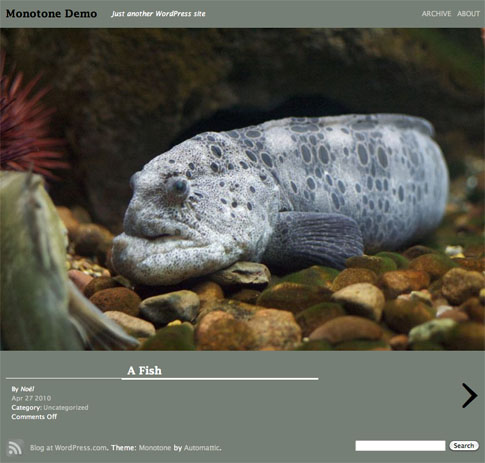 Monotone free theme is a wonderfully clean portfolio layout that is perfect for designers, graphic artists, and creatives. The simple lines and color scheme work well to take the attention away from your site and on your content. One really neat feature of Monotone's is that it samples colors from the photo being viewed and uses them to outline the picture, creating a unique experience for each item added to your online portfolio. Monotone WordPress theme should be a welcomed addition to anyone's online portfolio — with a few simple changes it can be altered to fit your style quite easily.
Monotone Theme Features
Clean, modern design
Excellent online portfolio
Unique feature that samples colors from the first photo of a post for use in the surrounding layout
Monotone Theme Showcase
Come back and check out the showcase as we find more sites from around the web using Monotone.
Monotone: FREE | Demo & Download
Note: Many of the articles on this site include affiliate links that may earn us a commission if you decide to buy the recommended product.
Related Articles