Monitor Your Website up Time with this Free Tool
Anyone who is interested in the success of his business must be very careful of his online presence. Nowadays, having a nice website is not sufficient, people have become more selective and their expectations bigger and bigger. A wonderful layout is not enough, people want to be engaged and usually a blog is a good solution (obviously, having a comment form inserted to allow the contribution of both sides).
As an effect of globalization, potential visitors come from various regions or continents, and any downtime of the website will be considered as an offense. Under these circumstances, the matter of website monitoring has become a real necessity. The Internet offers a large palette of services but what is it about a free website & server monitoring tool that is reliable, offering quality information and instant notifications about any issue? It is no surprise to say that it doesn't exist but it's real and anyone may benefit from it.
Monitor Scout is a Sweden based company that offers the best free website & server monitoring services. The features bellow are the proofs that support the previous statement.
1.Global monitoring network

Monitor Scout may offer the precious information you need due to a huge network that is hosted in 15 locations from different locations on the planet. The website monitoring support personal customization, according to the needs of the user, a website/network/application is supervised from all the locations or only from some specific locations.
2.Instant notifications
There is no website without downtime, the real matter is to solve the issues in a very short period of time. Everyone has a phone, the majority of us have smartphones, therefore the ideal method of being announced of these inherent problems is via SMS. The team behind pays close attention to this aspect and applies a simple principle: they announce any issue via SMS (the services are available both for a person and for a group).
3.Support for both operating systems
Linux and Windows are the big players on the market and, neglecting any of them, a part of the clients will be unsatisfied. Briefly, the website monitoring is available for both operating systems. There are many other huge advantages but at the beginning something very attractive was mentioned, "free website & server monitoring" so here comes the best part:
4.Expert monitoring is for free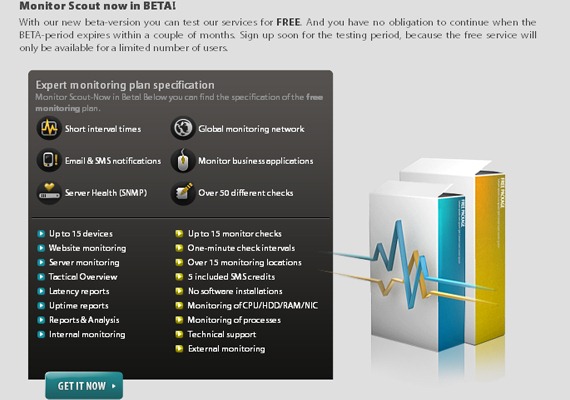 The services are still in beta version and the company has decided to offer these free. Undoubtedly, there are no secret clauses that obligate to subscribe to their service so there is no reason not to try it. We all love discounts and Monitor Scout offers a nice surprise: by using this coupon code (eiFu1Mah) anyone benefits from an extra six month period after the services go out of beta version. This is applied only to the customers who select the premium package. To convince yourself, the best solution is to visit the website, read their presentations and surely you will register to try their services. The huge number of previous customers is a real guarantee that the company offers only the best products.
---
Related Articles