Minimatica Free WordPress Theme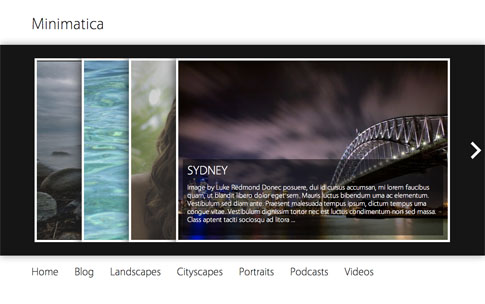 OneDesigns claims that Minimatica free theme may be their best release so far. Minimatica is a stylish and modern minimalist theme with a beautiful image gallery slider and an optional blog view. With support for post formats, audio, and video playback, Minimatica free WordPress theme is ideal for showcasing photography portfolios or podcasting, and is still excellent for everyday blogging. The theme comes with two view modes: a gallery view for photoblogging and the classical blog view. Minimatica WordPress theme supports post thumbnails, the all-new WordPress 3.1 post formats, and takes them a step further by offering audio and video playback. You can download the theme below, view a demo, or read further about the theme's features!
Minimatica Theme Features
Gallery and blog view
Post thumbnails
Post formats
Audio and video playback
Clean, organized, and documented code
Widget-ready
Includes custom widgets
Support forum
WordPress 3.0+ support
Utilizes HTML5
Minimatica Theme Showcase
Come back and check out the showcase as we find more sites from around the web using Minimatica.
Minimatica: FREE | Demo & Download
Note: Many of the articles on this site include affiliate links that may earn us a commission if you decide to buy the recommended product.
Related Articles