MiniCard Free WordPress Theme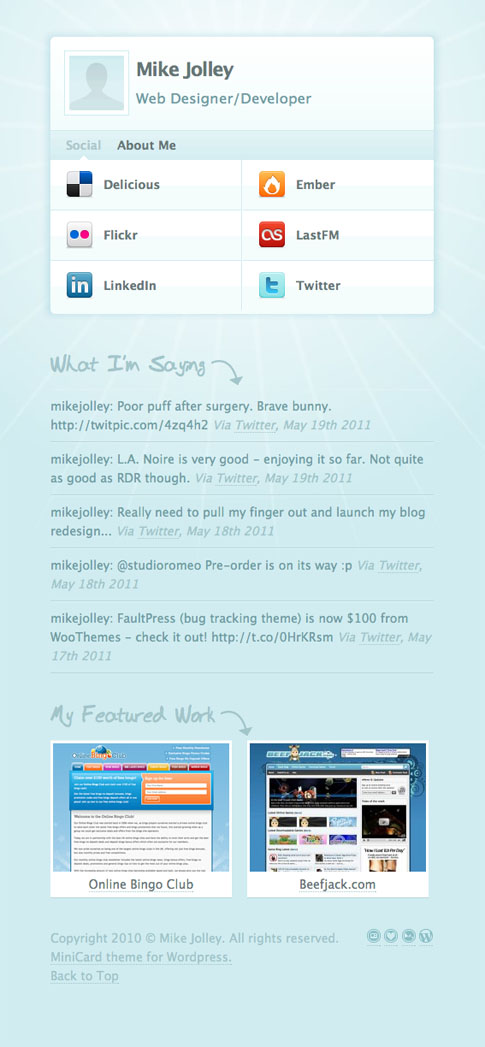 MiniCard free WordPress theme was developed and released by Blue Anvil Web Design and Development moving into 2010, but it still sports a simple, classic design that is just as relevant today. MiniCard free theme is a social network centered theme — think of it as your online business card. It allows you to add links to every network you are involved with and display pertinent information that visitors might be interested in (e.g. bio, contact details, et cetera). Where MiniCard takes things one step further though is with its built-in hCard support, and it optionally lets you offer a vCard for visitors to download your contact information! How spiffy is that?
MiniCard Theme Features
Supports numerous social networks
AJAX loading of main navigation links (optional)
Portfolio funcitonality with lightboxes
Theme configuration section and instructions in WordPress admin panel
Built-in hCard/vCard support
Comes with the default theme
Each theme contains several variations — burst, diagonal stripe, horizontal stripe, vertical stripe, and more
MiniCard Theme Showcase
Take a quick look at some of the sites from around the web using the free WordPress theme, MiniCard:
MiniCard: FREE | Demo & Download
Note: Many of the articles on this site include affiliate links that may earn us a commission if you decide to buy the recommended product.
Related Articles