MindStream WordPress Theme by StudioPress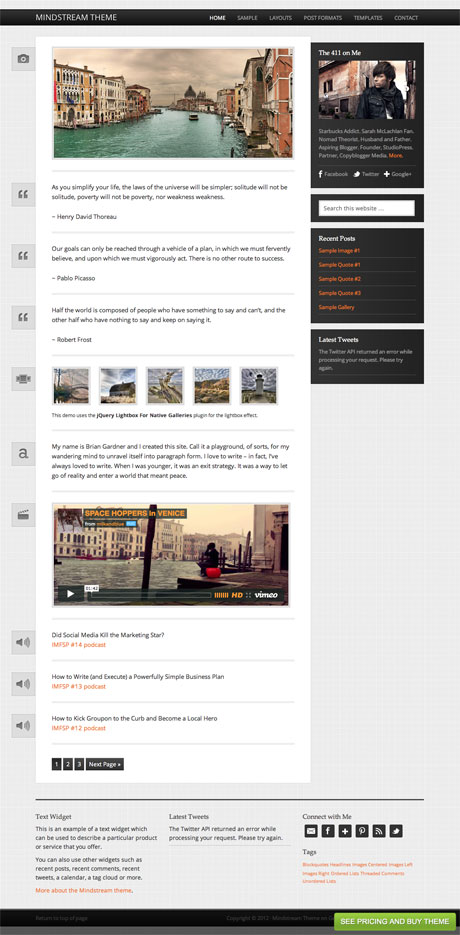 Keep your blog updated on the go -Tumblr-style. Take pictures, write stories, quote quotes, share videos, link to cool sites, and update your status anywhere, anytime. You can do all that and publish with ease right inside your own self-hosted WordPress site with MindStream Premium WordPress Theme from StudioPress.
MindStream is an excellent way to post content on your site regularly. It looks sleek. It feels professional. It's everything a professional blogger can ask for. Got writer's block? Share a famous quote. You don't need to come up with a 500 word article everyday. Stumbled upon a great article? Share the link. Post a status update just like you would on your social networking sites and forget about the word count. It's really that simple. MindStream Premium WordPress theme gives you 9 post formats to do just that. Choose from:
Asides – status update similar to Facebook
Audio – an audio file
Chats – a transcript of chats
Gallery – a gallery of images
Images – a single image
Links – a link to another site
Quotes – a quotation
Status – short status similar to Twitter
Videos – a single video
Make it more personal with these features:
3 layout options
custom background
custom header
featured images
footer widgets
mobile responsive
threaded comments
There are many platforms that can host and publish for free, which is great, but the downside there is that you are subject to the terms and conditions of the host site. Not so great if their terms and conditions include a clause where the terms can be changed at any given time. You might wake up the next day with your content gone.
If you are a serious blogger, take your microblogging to the next level with the power of a self-hosted site on WordPress, an opt-in email list with a great autoresponder system, and cap it off with the beauty of a well-designed and solidly built theme like MindStream. You'll wake up each day feeling grateful you did.
MindStream Theme: $24.95 | Demo & Download
Note: Many of the articles on this site include affiliate links that may earn us a commission if you decide to buy the recommended product.
Related Articles