Make More Money with Sponsored Reviews
When looking at the blog income report for January, many of you noticed a drastic increase in the income from Sponsored Reviews. A couple of you asked how I had been able to get so many extra reviews from one month to the next. Well, I'm going to break my own advice and explain how exactly I managed to up my income so drastically.
The truth is, I didn't do any more Sponsored Reviews than normal. I just made more on the ones that I did write. A lot more in fact.
So how did I do this? The answer is pretty simple… I raised my price. SponsoredReviews like all the other review marketplaces ranks blogs on several criteria. SR specifically looks at Link Pop, Technorati ranking, and Alexa rankings to help the place a general value on your blog. For example, a review on a 3 star (in this case check marks) blog will probably be worth more than a review on a one check blog. When advertisers browse Sponsored Reviews marketplace, the blogs are displayed by two criteria, first, the number of check marks. Next, the blogs are sorted by price.
A couple of weeks back I noticed that Blogging Experiment's ranking had moved up to a 5. And, since 5 checks is the most that any blog can get, I decided to make sure my blog showed up first according to the next criteria, price. Unlike bargain stores where the best deal is always promoted first, Sponsored Reviews lists the blogs with the highest priced 5 star blogs first. To show up first, I simple increased the list price. Instead of listing a review at $200, I set the price at $801 (the previous top blog was charging $800) and, as you can see, this blog now shows up first when advertisers browse the listings.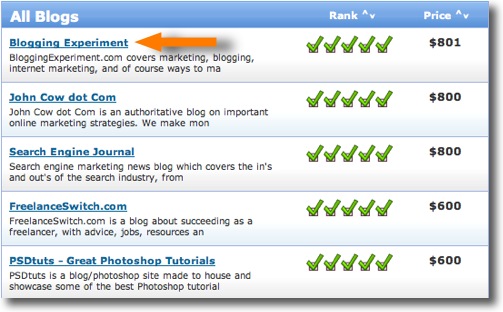 In reality this isn't all that much of a secret, but a lot of people will hesitate to pull the trigger. By putting the price so high, you're going to get fewer reviews and that's very much true. However, for the Blogging Experiment I've only had ta few reviews purchased through the market, without me having to bid on them initially. So what I've essentially done, is made roughly 4 times as much per review that is purchased through the marketplace. Also, by being listed first, I receive a lot more exposure and chances at having a review purchased outright. Time will tell for sure whether my tactic works over the long haul, but at least for last month, it paid off well.
---
Related Articles