Left Premium WordPress Theme

Right from the start it was pretty easy to see that the Left theme was going to be a little off-centered. See what I did there? "Right" from the start. "Off-centered." Oh, WordPress humor. All joking aside, the Left premium WordPress theme grabbed my attention from the very beginning with its unique layout. It's funny how something as simple as floating the entire page to the left side of the page makes it stick out these days amidst an ocean of websites that are relatively centered. After that, you'll notice all of the wonderful little details that start popping out of the page — a little border styling here, a little JavaScript magic there. These details are further enhanced by the fact that almost every feature on the page is easily editable through the extensive admin panel. Everything from gallery styles to header fonts can be changed with the click of a mouse.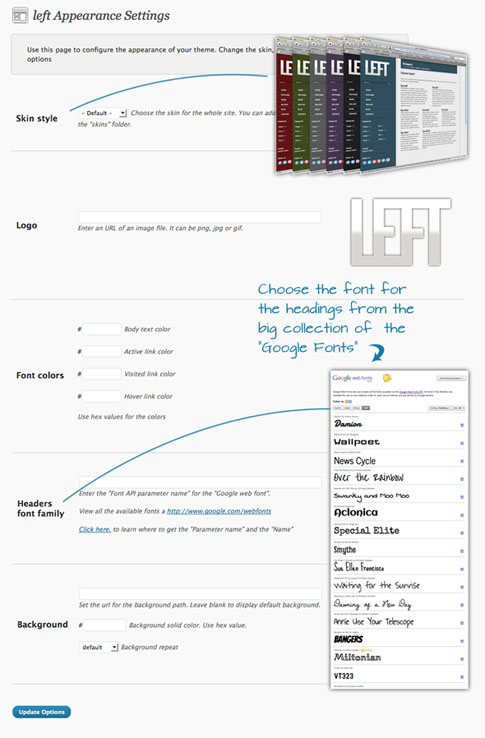 The appearance admin page allows you to select everything from skin styling to header fonts
The other neat thing about the Left premium theme is the community. Not only does Left theme come packaged with multiple skins, but Left users are encouraged to design their own skins and upload them so that others can try out various designs on their site. This serves as a fun way to give back to the community, and could even work as a way to promote yourself through your design work.
Whatever the case may be, Left premium WordPress theme is a gorgeous portfolio and showcase theme that features an extremely powerful admin panel. Make sure to give the theme a spin at the end of the post — for only $30, it's a bargain for sure!
Left Theme Features
Powerful options panel
Portfolio page module
Customize your own skin or download a skin from the community
Nivo-slider
Selectable Google Fonts for the headings
2 layouts for the blog and portfolio
Image and video gallery ready
2 built-in widgets (social icons and twitter feed)
Tons of shortcodes
Create your own contact form with the form manager
WordPress 3.0+ menu support
HTML and PSD files included
And much, much more!
Left Theme Showcase
Come back and check out the showcase as we find more sites from around the web using Left.
Left: $30 | Demo & Download
---
Related Articles