Key Conferences To Help You Get Equipped – Q1 2014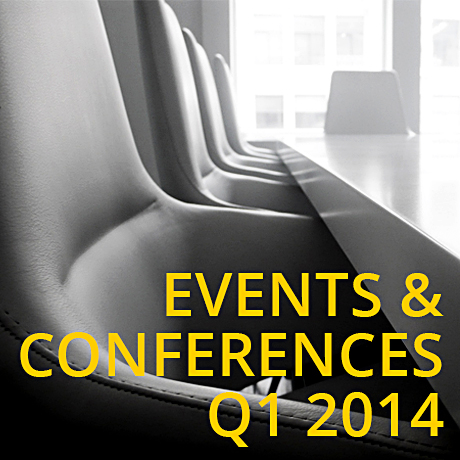 Keep yourself updated and abreast with the latest web, technology, and SEO news and trends at the start of the year with these events and conferences from all over the world this Q1 2014.
DLD (Digital-Life-Design) is a global network on innovation, digitization, science and culture which connects business, creative and social leaders, opinion-formers and influencers for crossover conversation and inspiration. DLD14 is an invitation-only conference with over 150 speakers and 1000 attendees. Europe's hottest conference invitation" turns 10 and brings together the most influential opinion-makers, industry leaders, start-ups and digital giants to celebrate its anniversary edition in Munich, January 19-21, 2014. There is the possibility of applying for a ticket upon request for an invitation.
Conference Date: 19-21 Jan 2014
Conference Location: Munich, Germany
FailCon is a one-day conference for technology entrepreneurs, investors, developers, and designers to study their own and others' failures and prepare for success. FailCon was started in San Francisco in 2009 as a response to events repeatedly highlighting only success, while providing so little guidance or safe spaces for failure. The first event launched with over 400 attendees, and has continued to grow ever since. Entrepreneurs need to hear that from each other: exchanging stories of what didn't work and how you pivoted, why you couldn't raise money, what the wrong hires were like, and when you decided it was time to let go.
Conference Date: 23 Jan 2014
Conference Location: FailCon Tel-Aviv
Learn all that you can from top internet marketers Ryan Deiss and Perry Belcher as they give you approximately 20 hours of hard-hitting, no fluff content – from harnessing dirt cheap traffic, Facebook adpower, list building, SEO, mobile commerce, Kindle publishing, and so much more. Module-based teaching – The training will be delivered in short, 45 – 60 minute modules with ample time allowed for questions and discussions.
Conference Date: 23-25 Jan 2014
Conference Location:
Manchester Grand Hyatt San Diego
1 Market Place
San Diego, California 92101
SMX Israel is the premier networking event designed for SEOs, SEMs, SMOs and affiliate marketers to exchange ideas, influence the industry and build their networks. Get a full day of sessions, keynotes, networking activities, and snacks in the historic city of Jerusalem. The 2014 Israel version is programmed by Barry Schwartz. Barry Schwartz is the Executive Editor of the Search Engine Roundtable, the News Editor of Search Engine Land, former News Editor at Search Engine Watch and the President of RustyBrick, a web development firm based in New York. Keynote speaker, John Mueller, will provide an overview of major pitfalls webmasters encounter, what are the most important areas webmasters should focus on in 2014
Conference Date: 26 Jan 2014
Conference Location: Jerusalem, Israel
Explore the critical connection between marketing strategy and enrollment. Through multi-channel marketing, effective branding, comprehensive big data analysis, and thoughtful lead nurturing, this year's conference sessions to inspire you for your next marketing move. Interactive sessions, focused undergraduate and non-traditional track breakouts, and expert speakers, focusing on the marketing mix of traditional and digital tools that make your marketing plans successful. This year's conference will start off with big data and end with interactive discussions on uniquely executed programs.
Conference Date: 30-31 Jan 2014
Conference Location:
Disney's Yacht & Beach Club Resort,
Walt Disney World Resort
Three full days of the most up-to-date research, technologies and strategies essential to your business development. Conference topics include: Android & iOS native apps, mobile web & web development, development tools, UX, UI, HTML5, Javascript and much more. Interactive and hands-on lab training sessions provide the opportunity to delve deeper into a specific topic on Day 1. Day 2 and 3 feature dedicated Android, iOS and Mobile Web & Web Dev tracks to provide engaging discussion on the 3 most used platforms in development.
In order to get the most out of Mobile+Web Developer Conference, it is highly recommended to sign up for one of the pre-conference labs. These three-hour education-based and dedicated sessions allow attendees to get extensive hands-on training, engage in discussion and do plenty of live coding, and an opportunity Labs' classroom style setting also allow for one-on-one time with the lab facilitators as well as time to work together with other attendees and experts.
Conference Date: 28-30 Jan 2014
Conference Location:
Marines' Memorial Club & Hotel
609 Sutter St.
San Francisco, CA, 94102
Mobile is a catalyst of change and innovation. Mobile is creating the next connected device that transforms communication. Advancing the next payment system that alters commerce. Launching the next must-have app that changes how we interact.
Mobile World Congress is the blueprint for the NEXT big innovation. Whatever is coming NEXT will likely be born at Mobile World Congress 2014 – either announced on stage during our Conference programme, showcased in our award-winning Exhibition, or conceived during one of the thousands of meetings taking place during the week.
Conference Date: 24 -27 February 2014
Conference Location:
Fira Gran Via
Av. Joan Carles I, 64
08908 L'Hospitalet de Llobregat, Barcelona
Note: Many of the articles on this site include affiliate links that may earn us a commission if you decide to buy the recommended product.
Related Articles