Is Fusion Marketing For You?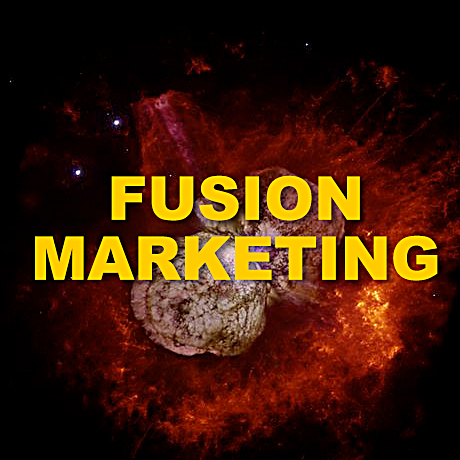 Ever heard of Fusion Marketing? If you haven't yet, here are a few thoughts for you to think about and see if it's something that could work for you and your business. But first, let's define.
Fusion Marketing Defined
What is fusion?
Fusion is the binding of two or more things, tangible or intangible, into something new that posesses properties of both.
while,
Fusion marketing is increasing exposure and reducing marketing expenses by sharing costs with one or more businesses. The aim is for a business to work with other like-minded businesses to achieve and exceed their targets and goals.

Fusion marketing takes into account all aspects of your business and finds the areas in which a collaborative effort will benefit you.
Fusion is a model based on Distinction over Competition, allowing you to focus your energy on working with others, instead of against them. By doing this you will realize a more efficient use of your time, achieve growth and maximize your business potential.
A few examples of fusion include Tie-Ins, Collaborative Marketing, Links, Displays of Information, Full Contact/lead exchange, full experience promotions, cooperative advertising, joint sales efforts, collective Networking and shared Manufacturing solutions.
Benefits of Fusion
Opportunities to increase your appeal
Get more time with customers – When like-minded businesses work together they can create more experiences for their target audience to enjoy.
Lower your marketing costs – When you work as a group you have the opportunity to share costs and also have the opportunity to utilize the benefits of your businesses to reduce expenditures.
Become an industry leader – A leader of their industry will know what is best for the customer even if it involves referring them to a competitor.
Educate more people about your vision – Working together with another business to educate your audience will result in smarter consumers.
Create a "WOW" factor
How To Get Started
Identify your potential partner
Map a plan – Plan a marketing campaign and write down where you think other businesses could get involved.
Write down the benefits – Ensure that the benefits for each party are mutual.
Negotiate the partnership – Present a written explanation of what the purpose and goals are, and the mutual reward for them getting involved. This will clarify the benefits and make the negotiation process easier
source: juggernautmc.com
More on this next time.
Note: Many of the articles on this site include affiliate links that may earn us a commission if you decide to buy the recommended product.
Related Articles