iPhone App Premium WordPress Theme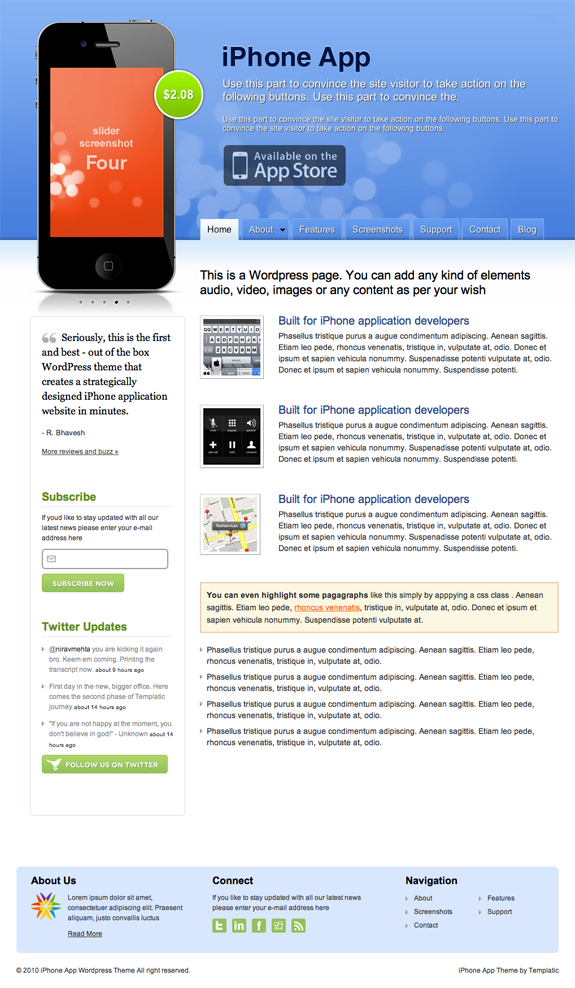 The iPhone App premium theme by Templatic quickly turns your WordPress into a professional website that represents your iPhone application in full detail. The theme allows you to create and manage your site easily in WordPress due to the thoughtful inclusion of numerous essential features, while neglecting to stuff it full of filler content. Save yourself money, time, and headaches and start promoting your revolutionary new application immediately!
iPhone App Features
5 detailed color schemes
Fully customizable front page
Excellent support
Theme guide & tutorials
PSD file included with multiple-use license
Dropdown menu
Gravatar support & threaded comments
Built-in ad monetization
Widget-ready with custom widgets
Valid markup
Cross-browser compatible
Advanced iPhone App Features

Out of the Box Auto-Install
Gone are the days when you had to setup every section of the site step-by-step in WordPress. With the iPhone App theme, you simply activate the theme and — voila! From the iPhone screen to titles, widgets to testimonials, every element is set out of the box. iPhone App adds these dummy elements for you so you can easily locate and edit them (or delete everything with single click if you wish). This makes it extremely easy for even beginners to create and manage their iPhone App site in WordPress.

Strategically Built Layout and Design
iPhone App's theme structure was finalized after many iterations. Designed strategically, the structure of the page is done in such a way that it gives maximum exposure to essential elements — everything is thoughtfully placed throughout the page.

AJAX Blog and Pages
The end user never actually leaves the homepage on iPhone App. The page navigation is shown after the main title and description. The pages, blog posts, and other content are pulled using AJAX. Whatever the user wishes to see, they will see it directly on the homepage without ever leaving the page.

Choose What to Show in the iPhone Screen
Templatic understands that it is really important for you to showcase your iPhone app in the proper manner. Their theme take cares of it by allowing you the choice to show up to 5 different slides of your application that will auto-slide on the homepage. Or, if you wish to show a video, no problem — simply select the video option from the design control panel, place your video embed code, and that's it.

Horizontal or Vertical Screen
Built an iPhone app that displays horizontally? No problem. The default screen in the theme is vertical, but iPhone App includes a horizontal option as well.

Blog and Pages
The iPhone App theme can also accommodate a separate blog page so you can have a news section in your site.

Built-in Contact Form
The theme includes a built-in contact form, which can easily be activated with no plug-ins required.

Rotating Testimonials
Right below the iPhone screen, the theme has a widget ready sidebar that is fully customizable. The built-in testimonial widget randomly displays a different testimonial each time a user visits your site
iPhone App Showcase
Take a quick look at some of the sites from around the web using the premium WordPress theme, iPhone App:
iPhone App: $65 | Demo & Download
Tough choice? Don't limit yourself — enjoy access to the entire Templatic club for only $299!
---
Related Articles