How Much Should You Pay For A Logo?
The question is how much you should pay just for a logo? Answering this question is not very difficult when you know which factors to consider. A normal person has a difficult time knowing how much he should pay someone for designing a logo. Some people think $500 is a reasonable amount, while others will consider this very expensive.
A company that charges you $1000 for a logo may have more experience and knowledge in logo and graphic design. They will (hopefully) spend more time on making your logo a perfect emblem. On the other hand, another designer or company may charge you only $25 for the same specifications but they will most likely only put a fraction of the effort into it. Therefore, cost is hard to nail down. There are actually 4 key factors you should be aware of when it comes to logo design.
Price
This factor is often considered first while going for a logo design. It is fine if you go for a cheap logo design, but think before how much importance a logo can have for your business. Your logo is going to be placed on mediums like stationary, website, promotional material and so on. These marketing collaterals not only introduce your customers to your business, it builds an image about your company through the impression of your logo. Therefore, spending a very low amount may not be reasonable, but spending thousands of dollars also doesn't make much sense. The better option is to spend in between $100 to $500. You will probably use your logo for at least 10 years, and if you divide cost with the number of months, it only comes out to a few dollars per month. By having these thoughts in mind it is clear that price should not be considered as the major factor among other important aspects.
Level of Service
Service level should be considered on top while selecting a logo design company. It usually depends on the package your selecting. The more you pay the more service options you will get. The service level of a company can be determined by the number of designers who will design your logo, the number of revisions (requests for changes), and the number of initial concepts provided at first round. In addition, money back guarantees are also an important element that should be considered if you don't like the design or if they don't deliver your work on time.
Quality of Design
Design quality is one other major factor that determines the worth of your logo. If you are ok with paying $1000, it means you also want to make sure and get the value of your money back in the shape of a great design. To assure the quality of design, you should check out the design portfolio of the company, the testimonials written by the customers, and the experience and knowledge they have about logo design.
Company's Location
Location of a company provides a great deal of advantages to the business owner(s). If you hire a designer who is located outside your country – for example China or India, it would be nearly impossible for you to take legal action against him/her if you come under the case of trademark infringement.
In short, considering price, hiring a logo designer, and getting the final formats all play an important role in determining how much you will pay for a custom logo design. Besides design, your logo is that element which give your company an identity. It really doesn't matter how much you pay – if your logo doesn't attract your target market, all the money you just spent is pretty much wasted. Hence, spend a considerable amount of time searching for a suitable logo design company before hiring one. You'll be glad you did!
This original article, written exclusively for Blogging Experiment, is from Ben Johnson of Logoinn, custom logo design services based in the UK. Ben was nice enough to not only send this article but a couple ideas for a logo for Blogging Experiment. We're working on a complete redesign of the site, so it was nice to see someone actually provide relevant content about logo design PLUS provide a personal touch by sending in a couple of ideas for this site. I've included the mockups below, so you can see a sample of their work. Coupon Code: Ben has also been nice enough to provide Blogging Experiment readers with a 15% discount by using promo code: MKT-01 at checkout should you decide to hire them to create YOUR custom logo. A big thanks to Ben for the great article and promotion code!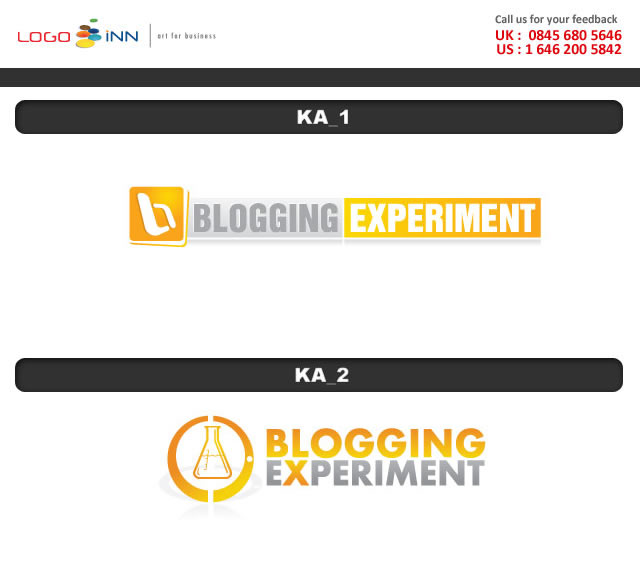 ---
Related Articles