GridPort – Ecommerce WordPress Theme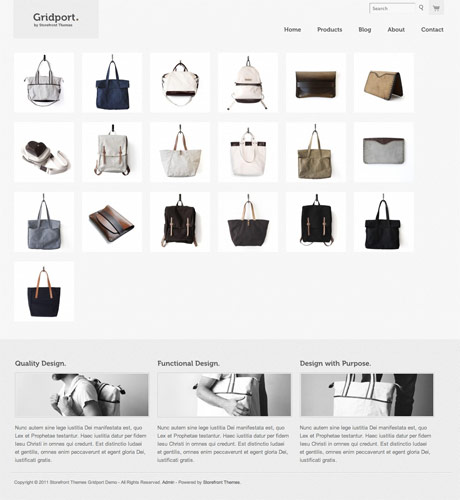 GridPort premium WordPress theme is an excellent eCommerce solution for anyone looking to start up an online storefront for their business. GridPort comes with a wide array of features that make it a great option for nearly any kind of online store as it is incredibly flexible and easily customizable.
First and foremost, GridPort premium WordPress theme features a responsive design that is beautifully minimal and incredibly intuitive to navigate. Your customers will have no problem getting around on this great layout no matter what device they happen to be surfing on. As it's no secret that mobile browsing is continually increasing and will one day eclipse desktop browsing, it's absolutely essential that your business begin taking steps now to ensure that you're ready for your customers no matter when or where they're viewing your site. Utilizing GridPort will give you the assurance that your site is future-proof and will look great no matter the situation.
Additionally, GridPort makes it very easy to update certain options throughout the theme to make it more closely fit your style and branding. The editor panel on the backend allows you to update colors throughout the theme, even with the buttons used in the theme. And you'll have no problem showcasing all of your products in style with GridPort's attractive Fancybox effect that is used on all images, even your product galleries and blog thumbnails!
Finally, you can rest easy knowing that GridPort comes completely translation ready as all copy throughout the template is built from the ground up with WordPress functions that are able to be accessed using translation plugins along with the creation of the appropriate files. A very cool feature indeed!
If you're looking to implement a simple, effective online shop for your customers to come and browse your inventory, you'd be hard-pressed to find a better option than GridPort. From it's fantastic responsive design to allowing users to fully update their theme as they see fit, it's easy to see why it's a top choice for eCommerce solutions. If you're interested in GridPort premium WordPress theme and would like to learn a little bit more about what it has to offer, take some time to read through the list of features below along with checking out the live demo at the end of the post. Enjoy!
GridPort Theme Features
Responsive design: looks incredible no matter what the screen size, from mobile devices to HDTVs
V-Grid animation for your product page images
Pop-out shopping cart tab (optional)
Choose most colors from your theme options panel (even choose from a number of button colors)
Fancybox effect for all images, including product galleries and blog thumbnails!
Beautiful product pages with unique look across different screen sizes
Translation Ready: all text in the theme uses WordPress functions and can be accessed using translation plugins like WPML and by creating .mo and .po files!
GridPort Theme: $49 | Demo & Download
Note: Many of the articles on this site include affiliate links that may earn us a commission if you decide to buy the recommended product.
Related Articles