Google Says Your Site Should Be Responsive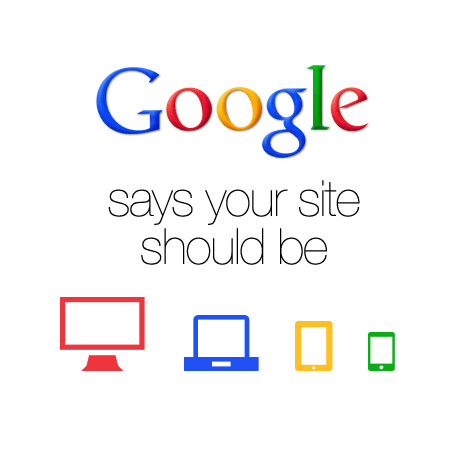 The mobile web is inevitable. People want access to information anywhere, everywhere. Not only that, they want to share information anytime and whenever they need or want to. Constant connectivity via mobile devices has affected the way we live, how we do our business, how we communicate. It is here to stay.
Major companies like Google and Ericsson recognize this and have been developing business roadmaps to address the impact of this fast emerging mobile web market.
What does Google have to say?
We're pioneering new technologies and offering new solutions for mobile services that help people all over the globe to do any number of tasks on their phone, from checking email and calendar events to watching videos, not to mention the several different ways to access Google search on a phone.

source: Google's About Us Section
In line with that, below is an excerpt from Google's recommendations for building smart-phone optimized websites:
Responsive web design is a technique to build web pages that alter how they look using CSS3 media queries. That is, there is one HTML code for the page regardless of the device accessing it, but its presentation changes using CSS media queries to specify which CSS rules apply for the browser displaying the page.

Using responsive web design has multiple advantages, including:

It keeps your desktop and mobile content on a single URL, which is easier for your users to interact with, share, and link to and for Google's algorithms to assign the indexing properties to your content.
Google can discover your content more efficiently as we wouldn't need to crawl a page with the different Googlebot user agents to retrieve and index all the content.

source: Google Webmaster Central
What does Ericsson, leading mobile equipment network and software provider, have to say?
According to leading ICT provider Ericsson in its Traffic and Market Report for June 2012:
85 percent of the world's population will have 3G coverage in 2017
50 percent of the world's population will be covered by 4G in 2017
Smartphone subscriptions expected to reach 3 billion in 2017
Mobile subscriptions reached 6.2 billion in Q1 2012 and 170 million new mobile subscriptions were added during the quarter
Global data traffic to grew 15 times by the end of 2017
Accessing the internet from mobile devices will drive mobile traffic development. Mobile data traffic is expected to grow with a CAGR of around 60 percent (2011-2017), driven mainly by video. This entails growth of around 15 times by the end of 2017.

The growth of smartphones has been tremendous. 40 percent of the world's smartphone users access internet and apps even before getting out of bed. Once out of bed, internet and apps are used almost constantly, peaking during the daily commute with 70 percent usage.

As content delivery over mobile networks is rapidly growing, it is becoming increasingly important to secure quality of experience end-to-end, from the content server across the fixed internet, and the mobile network to the mobile device.

One way of enhancing the user experience is to accelerate content delivery through a combination of internet optimization and mobile prioritization. The effect of this is threefold; it provides shorter average page load times, a more consistent user experience and page load failures are largely avoided. Being able to provide a consistently good user experience has a direct effect on a content provider's business value through increased conversion rates and brand perception.
How does this affect WordPress developers, designers, website owners, users, and content providers?
Imagine 6.2 billion people trying to access your website on their mobile phones. What will it be like? The look, the feel, the speed, the functionality, the interactivity, the conversion, the rankings, the SEO. How will it affect you?
Responsive design has many more implications than simply being able to resize beautifully to the latest handheld devices that come out. More thought must be given to various functionalities, SEO efforts, and admin tasks that can be also be managed and maintained on such devices.
At the rate technology is changing and while the mobile web is still in its developing stage, now is the perfect time to strategize on how to meet the demands of this sleeping giant before it truly awakens.
Whether you are a WordPress developer, designer, website owner or content provider, there is a lot potential for growth and success in this field given the roadmaps stated.
Google is correct. Ericsson has the facts and figures. The mobile web is the inevitable future. And you, as a WordPress user in whatever capacity should be responsive in every sense of the word.
Note: Many of the articles on this site include affiliate links that may earn us a commission if you decide to buy the recommended product.
Related Articles