More Google Buzz Tips, Resources, Extensions, and Icons to Keep You Buzzed.
Google Buzz's launch week is about to come to a close. And with that, we're going to start seeing just how buzzed people are about it. But just in case you're not buzzed yet, here's a quick round up of the best tricks, resources, and tutorials that have sprung up in the last few days.
FYI: You should bookmark this page so you can come back to it when you need it

Resource: 12 Undocumented Tricks for Google Buzz
---

Yes. We are shamelessly promoting our own post first! If you haven't seen it yet, this is a great place to start.
Extensions: WordPress Integration
---

I've found three wordpress add-ons. Each work a little differently. Google Buzz Widget and Google Buzz ER both allow you to add your Buzz feed as widgets. One of them is a little more "decorated" than the other. The third one is Simple Buzz which currently gives you a function which, once you add it to your WordPress template, will display your latest buzz.
Extension: Widget for Anyone
---

Just recently, the author of BuzzCounter.netalerted us to his web service. If you want to display your buzzes on your website and you're not on WordPress, this might be a good solution for you.
Resource: Verify Your Buzz Profile
---

Technically Personal! wrote up a quick tutorial teaching how to quickly verify your Google Buzz account on Google. You can see an example of a "Verified" account by checking out my profile.
Resource: Keyboard Shortcuts – Google Buzz Cheat Sheet
---
This is a must-have for powerusers. The Google Buzz Cheat Sheet is a keyboard printout with notes on top of the keys to help you learn and remember the quick shortcuts built into Buzz. Note that you have to enable keyboard shortcuts in Gmail Labs (Click Settings, Labs, and "Enable" Keyboard Shortcuts).
Resource: Integrate Facebook, Twitter, & Buzz into Your Gmail
---
Mashable should get BIG brownie points from Google. Ever since they've had it, they've been using it up the wazzo to get feedback from their readers and getting hundreds of replies through it. They recently posted a quick overview of how you can integrate Facebook, Twitter, & Buzz into your Gmail which is very helpful for users if they want to keep everything all in one place.
Extension: MobileBuzz for Google Chrome
---
Since our last post, the "Buzzer" extension has changed its name to MobileBuzz. It no longer uses Google Reader to post items, but instead uses Buzz's mobile interface. It requires some simple setup though. Before you try to use it, you must visit here and accept (or decline) all the Google Gears dialogs. (The developer suggests that you refresh the page once you've accepted them all, just to make sure.)
Extension: Google Buzz Pad for Google Chrome
---
New to the arena is Google Buzz Pad. This one is doesn't use any kind of workaround to view your Buzz (like just linking to Buzz Mobile, or going through Google Reader), but it does use Google Reader to post to your Buzz. It's obviously just a start, but the interface already has many things over Google's official interface, including: collapsible comments! This one's a keeper (so far) for me.
Extension: Google Buzz Checker for Google Chrome
---
Google Buzz Checker is also new. It's a simple extension that allows you to see your unread Buzz count. Clicking on it opens a new tab for Google Buzz.
Extension: Shareaholic for Google Chrome and Firefox
---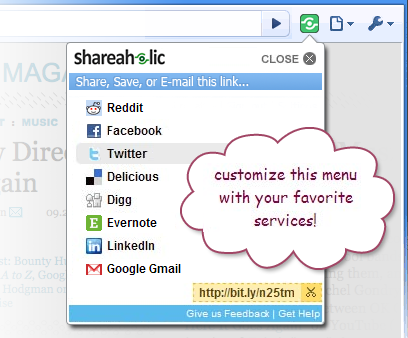 From their description: "Shareaholic is an award-winning add-on that has been downloaded over 1 million times by people looking for a customizable, light-weight method of sharing virtually any web page. It is a quick and easy way to share and bookmark stuff you care about online with friends, family and co-workers, without cluttering up your browser. If you like to connect and share with people in your life, you'll probably love Shareaholic." And it now supports Google Buzz on both their Chrome and Firefox extensions.
Resource: How to Make a Google Buzz Desktop App
---
Here's another one from Mashable which teaches you how to create a Google Buzz Desktop App. This in invaluable for people (like me) who use Google Apps for their main email (or they check their Gmail in an external application) and still want to use Buzz.
Resource: Google Buzz Widget – A jQuery Plugin
---
A very dear friend of us, Mike More, he has just published an interesting jQuery Plugin for Google Buzz. It's actually a jQuery widget for the brand new social network -Google Buzz- that you can embed anywhere to integrate your buzz stream into your page. Strong recommended to check out!!!
Tip: Your Buzz in an RSS Feed…or Twitter
---
Want people to be able to subscribe to your Buzz via RSS? Maybe you'd like to have Twitter updated via Twitterfeed or Friendfeed. Your Buzz RSS feed is found here:
http://buzz.googleapis.com/feeds/USERNAME/public/posted
Of course, replace "USERNAME" with your Google username OR user ID.
Some quick examples:
Profile URL: http://www.google.com/profiles/nathanbrauer (Follow me!

)
RSS URL: http://buzz.googleapis.com/feeds/nathanbrauer/public/posted
Profile: http://www.google.com/profiles/117324042500592458122
RSS: http://[…]/feeds/117324042500592458122/public/posted
Note: Your private posts will not show up in this feed.
Resource: Hide the Buzz count in Gmail
---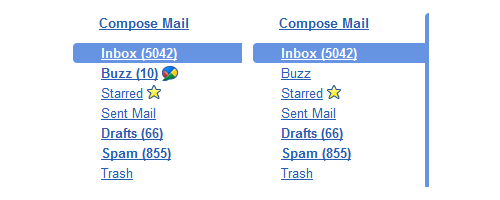 Techie-Buzz offers a great way to hide the new buzz count in Gmail with a Greasemonkey script if you're not being productive enough.
Resource: Google Buzz Icons!
---

This needs no introduction. Here are the icons and icon sets I've found:
ClickOnF5
NonProfitOrgs
ChethStudios *Good one
DeveloperSnippets *Good one
UnmatchedStyle
"Buzz it"
Tip: Reference your followers
---

Want to see a list of your followers or the people you follow real quick? David Sanger mentioned a great trick in the comments to quickly check your followers. He said, "To list your followers http://j.mp/buzzfollowers [and to] list people you follow http://j.mp/buzzfollows."
Keep 'em coming!
---

Google Buzz may have millions of posts in just days, but it's still just a baby. I'm sure there are many more golden nuggets out there. Let us know in the comments!
---
Related Articles