Get Flexible With Elegant Themes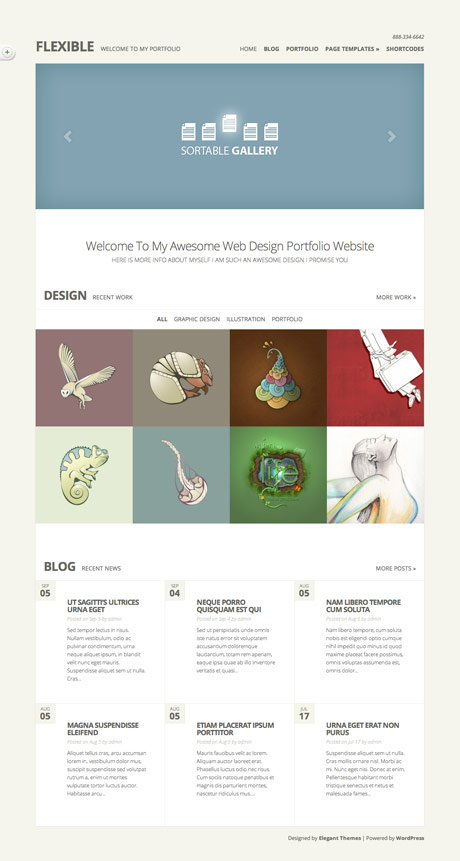 How many times have you purchased a theme you really like only to find out that it didn't meet your expectations? Or have you ever wished for your theme to have this and that feature but with another theme's design aesthetic? Before you start wishing to have the perfect theme jam-packed with all the bells and whistles for your site, ask yourself a few important questions to keep you on the right track: Who are your users? What are you offering them? How will they interact with your site? What experience will they take with them when they leave? Once you've answered these questions, you can narrow down your choices to a theme that might not necessarily have that "shock and awe" effect on your visitors. A "shock and awe" website does not necessarily mean it will be a successful one especially if your users don't find what they need and accomplish what they came for. But wouldn't it be great to have both? A beautiful, eye-catching website carefully designed and tailor-made to deliver a pleasant and fruitful experience for your users. If that's what you want for you and your users then carefully consider Flexible, a premium WordPress Theme by Elegant Themes.
Flexible is a beautiful premium theme and just like its name, it can be modified to accommodate a wide range of user design preferences and functionalities. This theme allows you to play all up all the bells and whistles that go with it or pull back and let its quiet elegance do its magic.
What's under the hood?
Fully responsive design
Unlimited color schemes
Sortable AJAX gallery
Video support – the gallery also supports video
Lots of font options
Advertising management
Automated thumbnail resizing
ePanel theme options – gives you complete control over your theme and its various settings
Page templates
Shortcodes – large collection of shortcodes you can create beautiful and complex layouts with ease, greatly improving the functionality and variety of your content
Complete localization – localized for easy translation using the theme's MO and PO files, you can quickly translate the design
Cross browser compatibility
Valid XHTML and CSS
Give your users an unforgettable experience as they go through your site. Check out Flexible Premium WordPress Theme today.
Flexible Theme: $39 | Demo & Download
Note: Many of the articles on this site include affiliate links that may earn us a commission if you decide to buy the recommended product.
Related Articles