Get All Elegant Themes' Plugins with Developer License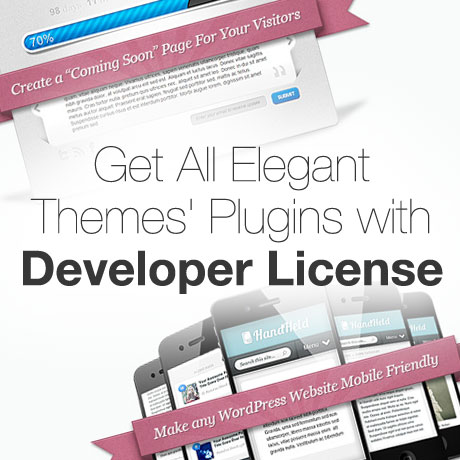 Did you know that when you sign up and become a member of Elegant Themes under the Developer's package you not only get complete access to all the beautiful themes released by ET, the perpetual theme updates, and the premium technical support, you also get access to all the layered photoshop files plus complete access to every plugin as well!
WordPress themes are becoming more and more powerful what with all the added functionalities that come with complementing plugins. What's great about the plugins released by Elegant Themes is that you can be assured of their compatibility with each and every Elegant Theme you purchase. Because these themes and plugins are all created under Nick Roach's technical nose, just in case you experience a hiccup along the way, you can be assured that the Elegant Themes support team can help you figure things out easily.
One of the latest plugins to be added to ET's toolbox is the Elegant Themes Builder. This incredible plugin takes the guesswork out of structuring a page. It's a definite must-have in your plugin arsenal, whether you are a WordPress professional or not. But wait! Because Nick Roach is one of the most generous guys on Planet WordPress, he's got great news for all of you.
You can get this powerful plugin together with all the existing 75 themes and plugins (and future ones) released by Elegant Themes once you sign up under the Developer's License. Here's the treat according to Nick Roach himself:
This plugin is only available for customers who sign up under the Developers Package, HOWEVER, all of our current customers will get the plugin for free! (even if you are only on the Personal Package)
That's an amazing deal right there. Good value for money indeed. By the way, this plugin works on any theme, not just Elegant Themes. So head on out to Elegant Themes and check out this great resource.
Check Out the Plugins!
Note: Many of the articles on this site include affiliate links that may earn us a commission if you decide to buy the recommended product.
Related Articles