Geo Places – City WordPress Theme by Templatic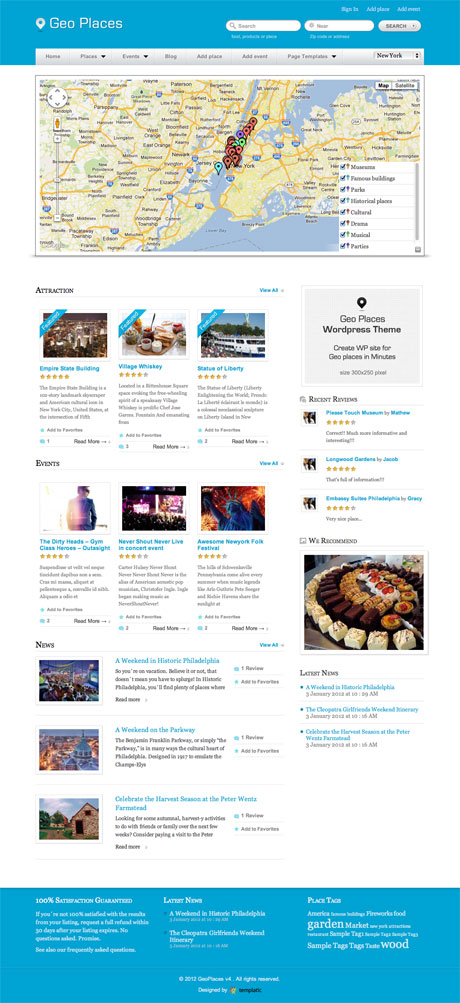 As you travel more and more across the globe, you might find it increasingly hard to remember some of your favorite places that you visited. Was that favorite coffee shop of yours located in Paris or Milan? Who knows. It all starts to blur together when you've been at it as long as you have. If you're interested in setting up a little online reference for your own personal travels, or perhaps want to startup your own business based on travel recommendations, Geo Places premium WordPress theme makes it incredibly easy to create and manage a directory website right out of the box! Geo Places turns your entire WordPress installation into a well thought out city portal that gives you and incredible return on your investment by showcasing different places and businesses you've visited.
The strategically designed homepage was built from the ground up with usability in mind and is incredibly intuitive to navigate. Utilizing Templatic's great backend administration system, it's very easy to add listing detail pages, places you've been, and even events! It's a great one stop-shop for everything you'll ever need to remember for making your return trips a huge success so that you can spend less time figuring out where to go next and more time experiencing the beauty of a foreign land.
But even though Geo Places premium WordPress theme was built with a very specific purpose in mind, it still features all of the great things that you've come to expect from a traditional WordPress installation. There are custom fields that you can use throughout your theme for different purposes, as well as great looking blog that is perfect for sharing your most recent updates with family, friends, and colleagues. The options of what you can do with Geo Places are really endless, now you just have to get to travelling so that you can start filling it up!
The list below outlines some of the features made available in Geo Places premium WordPress theme, but it is by no means exhaustive. After you're done checking that out, you should go ahead and click on the live demo link at the end of the post so that you can see all that Geo Places has to offer in person. Enjoy and happy travels!
Geo Places Theme Features
Out of the box – Auto Install
Strategically designed homepage
Widgetized Homepage
Category Listing View
Listing Details Pages
Add Places
Add Events
Mega Menu widget included
Featured Events and Listings
Custom Fields
User Dashboard Page
News Blog
Extensive theme options
Payment Options
Manage Category Icons
Manage Coupons
Price Packages
Six detailed color schemes
Fully customizable front page
Excellent Support
Theme Guide and Tutorials
PSD File Included with multiple use license
Drop Down menu
Gravatar Support and Threaded Comments
Built-in Ad Monetization
Built-in payment gateways
Widget Ready with custom widgets
Valid, Cross browser compatible
Geo Places Theme: $99 | Demo & Download
Note: Many of the articles on this site include affiliate links that may earn us a commission if you decide to buy the recommended product.
Related Articles