Freelancer Sites – Good, Bad, Ugly?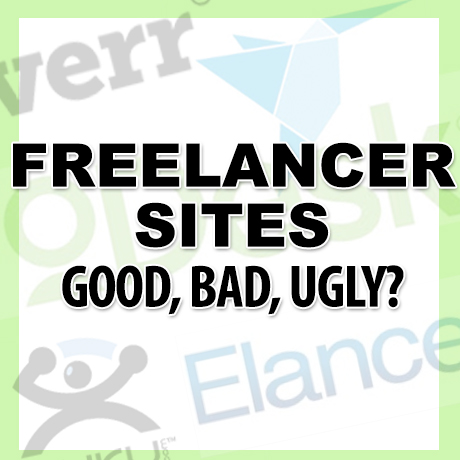 Breaking into the online freelancer network to make money as a part-time or full time freelancer can be overwhelming for a beginner. Thousands of choices are available at your fingertips but not all of them are legitimate or have a good reputation to back them up. Where to start? We've narrowed down some of the more established freelance sites that you can dive into. Whether you are looking to hire a freelancer or you are a freelancer looking for a project, make sure to read through the terms and conditions thoroughly so that you know what to expect and is expected from you and hopefully avoid scam or ripoff sites.
oDesk is a digital platform that allows people to work together remotely even if you are half-way around the world. As a freelancer you can work where you want, when you want; set an hourly rate based on your skills, experience, and reputation; have access to the tools you need to build your business online; and be assured that you get paid for every hour worked—on time, every time. As a client you can find the right person for the job, no matter where they live; build an online workforce, on-demand and on your own terms; manage and pay a global team with ease; and audit and pay only for hours worked. The oDesk Work Diary tracks time and takes work-in-progress snapshots, giving you visibility into project progress and accurately tracking time spent to assure both freelancer and client transparency and accountability.
Elance is one of the top platforms to find, hire, manage and collaborate with online freelancers. As a freelancer you can be your own boss while choosing the jobs you want and working the hours you want; get hired for interesting jobs wherever you are; and you are guaranteed payment for all the hard work you do. As a client you get instant access to a community of over 3 million of the world's best freelancers among them web programmers, mobile app developers, graphic designers and other freelancers with the most-demanded skills. You can track job progress in your shared Workroom; stay on top of jobs by setting milestones, viewing work in progress, video conferencing with freelancers; and you only pay for work you approve.
Guru is an online marketplace for freelance talent providing businesses with the ability to find the help they need from a variety of talented Freelancers worldwide. The proprietary Guru Recommended system leverages performance data to make the freelancer selection process easy and reliable – every time. Once connected, Employers can securely pay Freelancers through their SafePay system where employers are guaranteed payment protection. As a freelancer you can create a profile and define the freelance services you want to offer; search and apply for jobs that interest you; define milestones, set tasks, communicate with employers, share files, and agree upon payment schedules; and get paid quickly and securely. As employers you can search for services in a network of over 900,000 freelancers for any technical, creative or business projects you have; create agreements, define milestones and tasks, communicate, and share documents; pay only for a job well done.
Freelancer is the world's largest freelancing, outsourcing and crowd sourcing marketplace by number of users and projects connecting over 10,294,248 employers and freelancers globally from over 247 countries, regions and territories. Employers can hire freelancers to do work in areas such as software development, writing, data entry and design right through to engineering, the sciences, sales and marketing, accounting and legal services; and you can even hire customer support or a virtual personal assistant to simplify your life without the risky overhead and cost of hiring full-time staff. Freelancers simply sign up, complete their profile, browse available projects, and bid on projects matching their skills.
Check out this interesting article and learn from the ongoing discussion among those who are active in the freelance industry.
Note: Many of the articles on this site include affiliate links that may earn us a commission if you decide to buy the recommended product.
Related Articles