Fotofolio2 Free WordPress Theme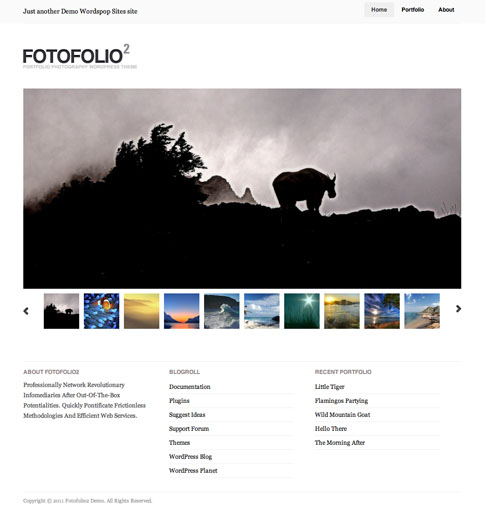 Fotofolio2 free theme is an excellent solution for displaying your photography portfolio with a nice, simplistic design. Fotofolio2 free WordPress theme also includes page layouts that can be used for a contact page, "about us" section, or just about anything else you can think of. The real beauty of Fotofolio2 is its mobile version, which can be utilized by using Wordspop's mobile theme engine — an incredible offer in the world of WordPress! Check it out at the end of the post!
Fotofolio2 Theme Features

Theme Panel
Fotofolio2's theme panel provides you with more functionality than the regular WordPress panel.

Auto-Update
Updating your theme has never been easier than with Fotofolio2's single-click feature. Simple. No more hassle.

Alternate Schemes
3 for free — Fotofolio2 theme provides you with a few included schemes to change the look and feel of your site within seconds.

Mobile Version
Give your mobile viewers more by using Wordspop's mobile theme engine.
Fotofolio2 Theme Showcase
Come back and check out the showcase as we find more sites from around the web using Fotofolio2.
Fotofolio2: FREE | Demo & Download
Note: Many of the articles on this site include affiliate links that may earn us a commission if you decide to buy the recommended product.
Related Articles