Exciting Web and Design Events 2013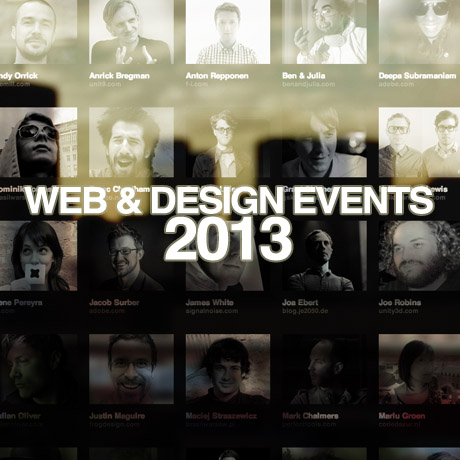 You're never too old to learn. Absolutely true. As WordPress professionals, users, or marketplace owners, updating your skills or acquiring new ones will always add value to you and your product. Here are some of the most exciting web and design events that are happening all around the globe this year. If you happen to be in the neighborhood, get out of your computer chair and check them out. If you happen to be halfway around the world from the event, consider the investment you are putting into yourself and your craft. Check these out:
Event: Web Visions
Date: 27 Feb – 1 Mar 2013
Location: New York
Date: 22 – 24 May 2013
Location: Portland
Date: 26 – 28 Jun 2013
Location: Barcelona
Date: 26 – 28 Sep 2013
Location: Chicago
Description: WebVisions explores the future of the Web and mobile design, UX, digital media and technology.
Event: Mobilism
Date: 16 – 17 May 2013
Location: Pathé Tuschinski, Amsterdam
Description: Mobile Web Design and Development
Event: FITC Amsterdam 2013
Date: 17 – 19 Feb 2013
Location: Felix Meritis, Amsterdam
Description: Design, Technology, HTML5, CSS, Virtual Machines,
Event: An Event Apart
Date: 18 – 20 Feb 2013
Location: Atlanta
Date: 1- 3 Apr 2013
Location: Seattle
Date: 20 – 22 May 2013
Location: San Diego
Date: 24 – 26 Feb 2013
Location: Boston
Date: 5 – 7 Aug 2013
Location: Washington D.C.
Date: 26 – 28 Aug 2013
Location: Chicago
Description: An Event Apart is an intensely educational two-day learning session for passionate practitioners of standards-based web design. If you care about code as well as content, usability as well as design, An Event Apart is the conference you've been waiting for.
Event: Graphika Manila 2013
Date: 9 Feb 2013
Location: Manila, Philippines
Description: Graphika Manila is the premier multimedia and graphic design event in the Philippines. The conference focuses on the creative side of design.
Event: Fuse 2013
Date: 15 – 17 Apr 2013
Location: Swissotel, Chicago
Description: 3-day conference on brand strategy, graphic industrial, trans-media and interactive design, trends and culture.
Event: Adobe Max 2013
Date: 4 – 8 May 2013
Location: Los Angeles Convention Centre & Nokia Theatre L.A. LIVE
Description: Digital, Web Design, Photography, Technology
Event: AIGA Design Conference 2013
Date: 10 – 12 Oct 2013
Location: Minneapolis Convention Center
Description: Head – Design thinking or strategy; Heart – Design for social impact; and Hand – Design as craft
Event: WordCamp Atlanta 2013
Date: 15 – 16 Mar 2013
Location: Atlanta
Description: WordCamp conference on everything WordPress
Event: WordCamp Columbus 2013
Date: 26 – 27 Jul 2013
Location: Columbus
Description: WordCamp conference on everything WordPress
Note: Many of the articles on this site include affiliate links that may earn us a commission if you decide to buy the recommended product.
Related Articles