Essential Web Analytics Tools You Need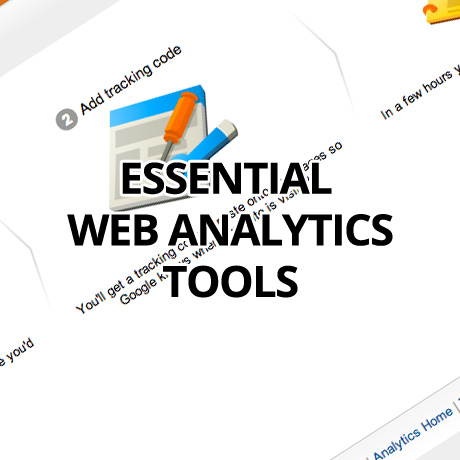 When analyzing the operation of a system, it is common place to merely respond to an incident or outage by investigating the facts that led to that event occurring. The problem with this reactive approach is that it merely gives a limited view of how the system behaves not enabling any preventive measures to be done.
A better way of analysis is to take information on events that occurred in the system as a whole and identify patterns and trends that appear. By checking out time trends, you can identify trigger points when there are shifts in system performance even though it may not have failed any performance criteria. This opens up a whole new set of incidents for investigation that will help you create a better model for failures and system performance later on.
As far as analyzing web performance is concerned, there are several tools that you can use to gather data for analysis. Here are some of the best tools available in the market today:
Google Analytics is a service offered by Google that generates detailed statistics about a website's traffic and traffic sources and measures conversions and sales. Google Analytics provides powerful digital analytics for anyone with a web presence, large or small. It's one of the most powerful digital analytics solutions available. The product is aimed at marketers as opposed to webmasters and technologists from which the industry of web analytics originally grew. It is the most widely used website statistics service. The basic service is free of charge and a premium version is available for a fee.
Webtrends offers a portfolio of digital solutions that help brands understand consumer behaviors and enable them to act on those insights in the very moment they need to act. Utilizing advanced big data analytics, Webtrends solutions provide a consistent customer experience across all digital channels on any device the customer uses, helping brands remain connected and relevant to their customers, increase productivity and maximize yield on investments.
This plugin enables Crazyegg.com heatmap tracking on your WordPress site, with a limited amount of configuration. Collect more than 88% of the data you would collect using classic eye tracking tools, at a fraction of the price with no hardware required and no strings attached. See where users click and discover what Google Analytics is not telling you thanks to Heatmap, Scroll Map, Overlay & Confetti Tools included in all packages.
KISSmetrics fills this gap by showing you every action each individual did. You'll know who your most valuable customers are and how to get more of them. KISSmetrics tells you where each person originally comes from so you know which marketing brings you valuable traffic. You'll know which features are being used on your site. Not only will you know what's being used, you'll see the exact order or events that each individual triggers. You'll see how a real person uses your site.
ClickTale is the industry leader in Customer Experience Analytics (CEA), providing businesses with revolutionary insights into their customers' online behavior. Over 80,000 businesses rely on ClickTale to optimize website performance, improve usability and dramatically increase conversion rates. ClickTale tracks every mouse move, click and scroll, creating playable videos of customers' entire browsing sessions as well as powerful visual heatmaps and behavioral reports that perfectly complement traditional web analytics. As a fully hosted subscription service, ClickTale is cost-effective and quick to set up.
Coremetrics – a leading provider of web analytics and marketing optimization solutions is now part of the new Enterprise Marketing Management (EMM) group at IBM. Optimize all your web, mobile, and social channels with intuitive, flexible web analytics dashboards and benchmarks. Understand true campaign contribution and the combined effect of multiple marketing touch points with state of the art marketing attribution insights.
Note: Many of the articles on this site include affiliate links that may earn us a commission if you decide to buy the recommended product.
Related Articles