Elegant Themes Shortcodes: Now Free For All (Members)!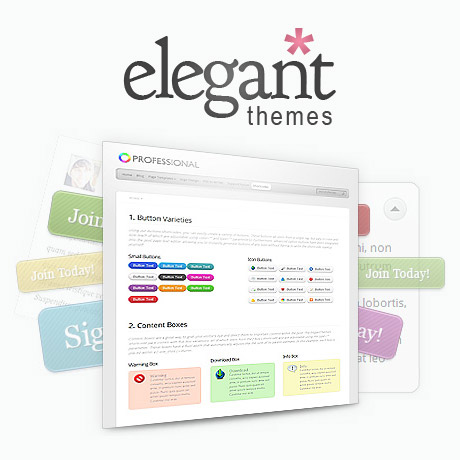 Designer resource alert! Take the guesswork out of creating shortcodes and save yourself a lot of coding time with this free shortcode plugin from Elegant Themes. Nick Roach has just released another great resource for WordPress developers and designers to incorporate into their WordPress themes.
For those of you who are wondering what shortcodes are, it is a WordPress-specific code that lets you do nifty things with very little effort. Shortcodes can embed files or create objects that would normally require lots of complicated, ugly code in just one line. Shortcode = shortcut.
One of the many stand out features of Elegant Themes is its large collection of shortcodes included in every Elegant Theme you download. These shortcodes make it easier for users to customize their own websites without diving into complicated HTML and Javascript. Nick Roach has made it even simpler by turning this shortcode collection into a plugin. What a great idea! What's even more awesome is that he has made it available for use on any WordPress installation, no matter what theme you are using.
Included in this plugin are shortcodes for:
Buttons
Content boxes
Toggled Content
Tabbed Content
Slideshow
Image slider
Easy Tooltips
Social Media
Password Protect
Author Info
Column layouts
Custom Icon Lists
Corporate Pricing Tables
Testimonials
DropCaps
Quotes
Is it really free?
This plugin can be downloaded for free in the Members Area of Elegant Themes. That means members can download it anytime they want to as part of their membership package.
Not a member of Elegant themes but would love to have this plugin? If you are a WordPress professional creating websites for clients you've probably already invested some money (perhaps more than $39?) in a few shortcode plugins only to be disappointed.
For the same price as an Elegant Themes membership, you can either get an exotic Japanese tempura dish at a fine dining restaurant, a set of clear mailing labels, or a pack of 40 rolls of bathroom tissue (and who needs that anyway).
Or you can get a handy, dandy plugin to use over and over again on any theme PLUS you also get access to 77+ (yup, that's right, 77+!) beautiful and elegant premium WordPress themes to invest in your business. Or the other way around. You get 77+ beautiful, elegant premium WordPress themes plus a plugin tool as a bonus. It really depends on how you look at it. Either way, it's worth more than just a pack of bathroom tissue.
Check out Elegant Themes today to download this great resource.
Check it Out!
Note: Many of the articles on this site include affiliate links that may earn us a commission if you decide to buy the recommended product.
Related Articles