Easy Tool to Find the Best Hosting Provider
Today, web hosting has become the most important business industry on the internet as it is the only mode to run any website through sufficient server space. Once a website is made it can only be functional and fetch good business if it gets the right hosting plan. Without it, any website owner may never be able to utilize the core purpose behind which the website was developed. This shall further mean no blogging, no traffic and no visitors on the site which is quite essential for any online business.
Undeniably, web hosting is the basic step towards any compelling website. The first step is to choose the best host provider and the place where you can find the right help is at HostUcan. Most of the hosts mentioned here provide control panels for operating the server and install scripts to the website. There are several hosting services available and customers need to find out the right one according to their needs and website specification. You can choose within shared web hosting, private server, dedicated server, cloud hosting, collocation, resellers or free web hosting.
Check Hosting Relevancy Before You Buy
hostUcan hosting relevancy check tool will help you find out the best suitable plan for your business. Lets get started
Go to the relevancy check tool
Enter provider name of your choice and hit enter. For ex: GreenGeeks
Click on Relevancy checking
Select Application Framework = Drupal and Daily Page View Of The Site = 0 – 300
Click continue to see result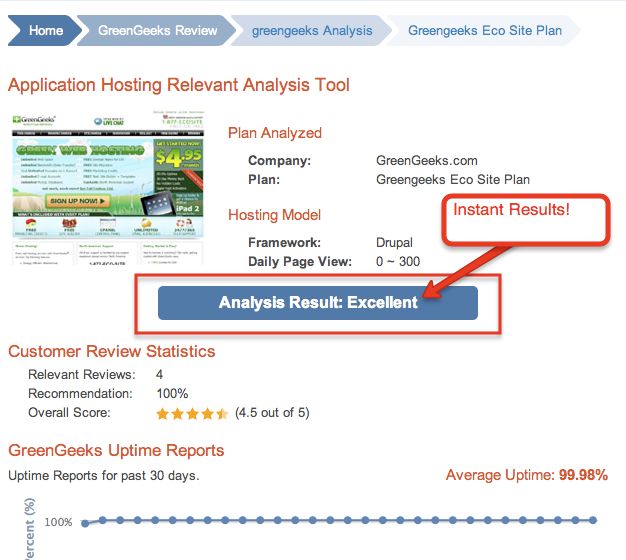 Analysis Result: Excellent. For this type of stats with Drupal platform, Greengeeks is excellent.
It will also give you handy GreenGeeks Review and coupons to make sure everything and to save some bucks.
We repeated the same steps with page views 601 – 1000 and found that Greengeeks is not recommended. In fact everything is still good, but the hosting provider is not recommended for sites with that kind of traffic. You can see result and recommendations below
Best Web Hosting for Drupal
If you are in search of a web hosting company for your Drupal website then you must have a look at here Drupal hosting .
This is CMS (content management solution) which is quite helpful if you want to manage or publish any website content. Drupal websites do not need any special kind of hosting and even work perfectly well on Linux server. This is one of the most powerful frameworks that can create any kind of website ideal for blogs, online newspaper, e-commerce sites and even for social networking sites. HostUcan relevancy tool can offer the best hosting for Drupal and all you need to do is choose the application framework as Drupal along with the traffic that you need on your website and the HostUcan website will offer you the whole list of hosting plans.
With so much of competition just having a website is not sufficient; you need to have an appropriate web hosting provider that can offer you the right space and features for online development. No matter what kind of framework has been used be it WordPress, Joomla, Dropal etc HostUcan helps you select an efficient hosting solution for your website. The check tool offered by HostUcan gives a quick access to all the relevant information regarding the companies that offer hosting solution along with the customer review which is of higher importance.
---
Related Articles